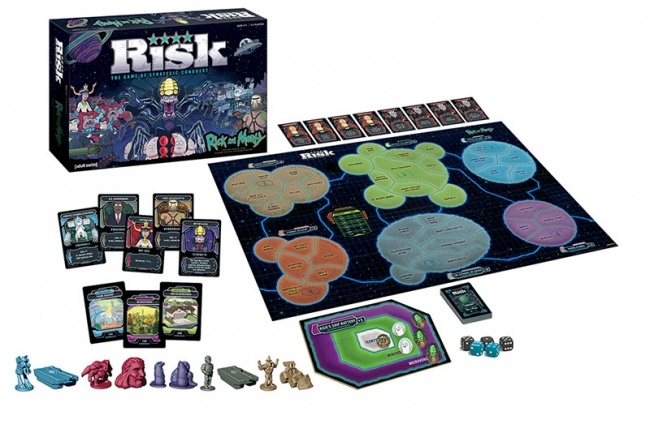 There's another crossover game planned that combines the hit animated series
Rick and Morty
with a popular board game. This time it will be
Risk: Rick and Morty
from USAopoly, scheduled to release in October.
This version of the classic game of world domination will feature five factions from the animated series competing against each other for control of a number of planets and locations that make up the Central Finite Curve. As an added twist, each faction also has its own "Leader" figure that provides special bonuses to the player in the Leader's territory.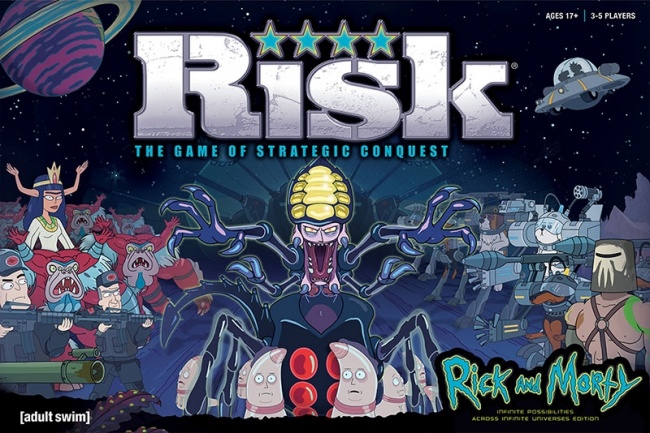 Each faction will have their own distinctive miniatures to represent their armies. The factions will include the Mythologs, Robot Dogs, Gazorpians, Post-Apocalyptic People, and the U.S. Government.
The game is intended for 3 to 5 players, ages 17 and up. MSRP is $49.95.
Click the Gallery below for images of the game components.
Risk: Rick and Morty
was produced under license from Adult Swim, which recently announced a renewal of the series (see "
'Rick and Morty' Renewed for 70 Episodes
"). This is not the only time USAopoly has embraced
Rick and Morty
in game form, having produced a
Munchkin
mash-up featuring the duo last year (see "
'Rick and Morty' Get 'Munchkin' Treatment
").