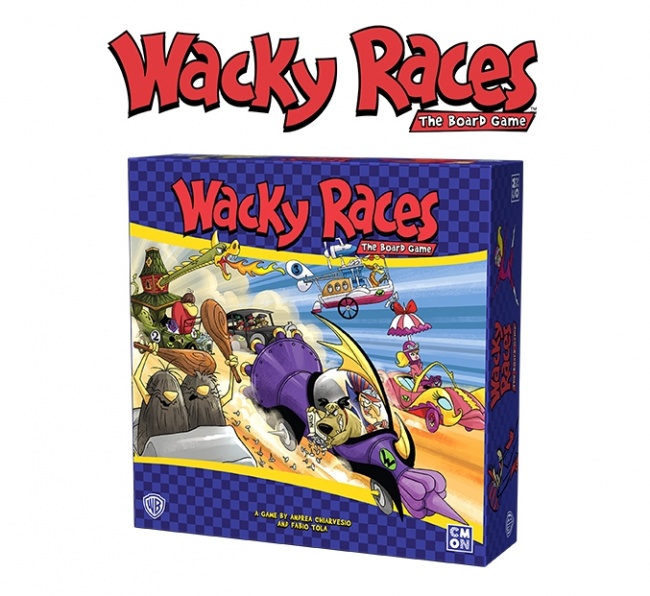 The aptly-named 1960's cartoon
Wacky Races
will soon be reincarnated in game form when CMON releases
Wacky Races: The Board Game
early next year, produced under a license from Warner Bros. Consumer Products.
In the game, players will control a team of drivers from the cartoon—the Slag Brothers, Gruesome Twosome, Penelope Pitstop, Peter Perfect, and others—in a race to the finish line. Along the way, they will have to contend with the traps and schemes of the villainous Dick Dastardly and his pup Muttley. The villains are controlled by the game system, while the actions of the player-racers are managed through card play.
Wacky Races: The Board Game
offers two playing modes: a quick single race mode that can be played in about 15 minutes, or the more-involved "Championship" mode that features rules that change from race to race.
The game has been designed by Andrea Chiarvesio (
Kingsburg
,
Hyperboarea
) and Fabio Tola, and features artwork taken from the archives of Warner Bros. as well as work by Giovanna Guimaraes. It will include plastic miniatures representing the racers, and a deluxe version of the game with pre-painted minis is also planned. Game components and MSRP have not yet been announced.
The Hanna-Barbera classics are enjoying something of a resurgence in popularity, appearing in a series of crossover comic books from DC Comics, as well as a teen-friendly line (see "
More DC / Hanna-Barbera Crossovers Coming in October
").