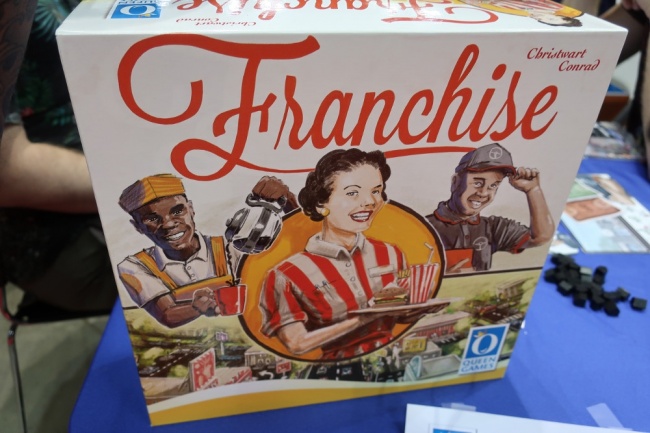 Queen Games is planning to release three new titles at the
Spiel
game fair in Essen Germany this October:
Franchise
,
Skylands
, and
Bastille
.
Franchise
is an update and reskinning of the 1998 Rio Grande Games and Goldsieber Spiele game
Medieval Merchant
. In the new game, players are the heads of fast food chains in the 1960s, competing to create a national fast food empire. They must build their networks while controlling the most valuable markets by opening the most restaurants in each city. But, the more restaurants a player opens in the same market, the lower their profitability becomes.
The game was created by Chistwart Conrad (who also designed the original
Medieval Merchant
). It is intended for 3 to 5 players, ages 14 and up, and takes about an hour and a half to play.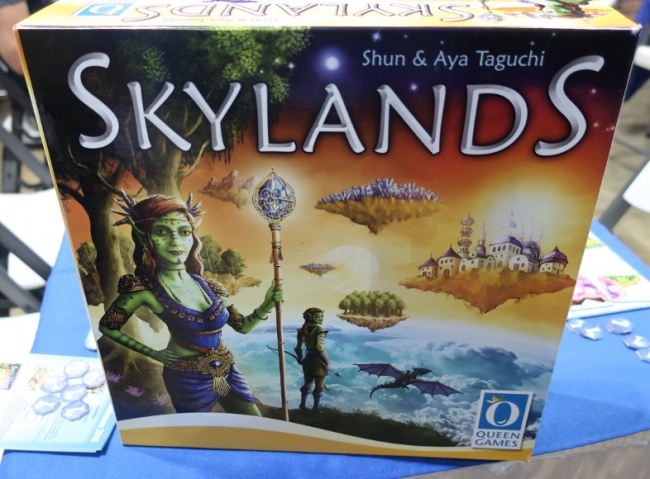 In
Skylands
, players build mystical floating islands for their people. The game uses a job selection mechanic similar to
Puerto Rico
, combined with tile laying and resource management elements. It is based on a game by Japanese designers Shun and Aya Taguchi called
King of Frontier
, which released in 2013.
Skylands
supports 2 to 4 players, ages 10 and up, and plays in about 45 minutes.
Set in pre-revolution Paris,
Bastille
combines tile laying and area control mechanics. Players place influence tokens in the various sectors of the city, allowing them to take the actions awarded by those sectors. Influence also determines control of the sectors at the end of a round, which grants players upgrades and other advantages.
Bastille
was designed by Christoph Bahre (
23
,
3 sind eine zu viel!
) and is intended for 2 to 4 players, ages 12 and up. Playing time is about one hour.
Click on the Gallery below to see pictures of Franchise and Skylands in play.
The MSRP and component lists for the new games have not yet been announced.
Queen Games plans to run a single Kickstarter campaign later this month to raise funding for all three games. Campaign backer fulfillment is scheduled for the same week as Essen, allowing fans to acquire their copies at the same time as show attendees.
Also coming this August from Queen is
Kobold
and
Luxor: Forgotten Treasures
(see "
Egyptian Treasures and Thieving Kobolds Coming From Queen Games
").