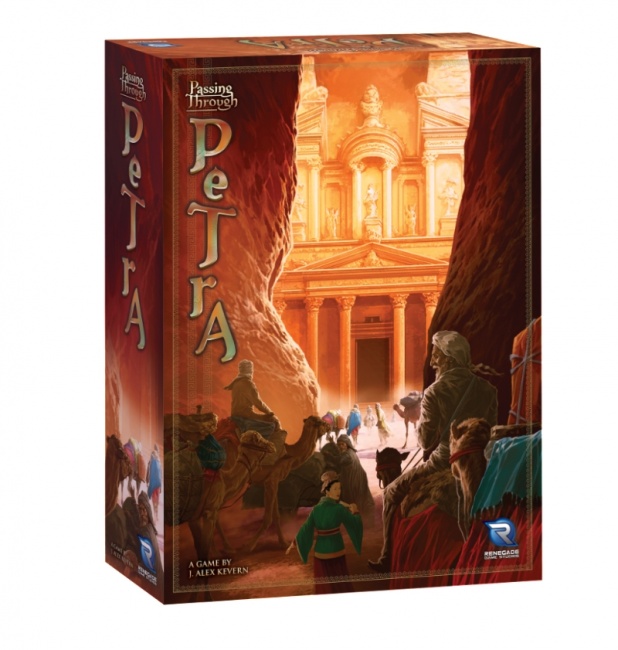 The ancient trading center is the inspiration for J. Alex Kevern's
Passing Through Petra
, releasing from Renegade Game Studios this October.
In
Passing Through Petra
, players are merchants looking to expand their settlements and enhance their reputations by conducting business with the many caravans that travel to and from the ancient city. By trading valuable goods with the traders in the caravans, players can expand their influence and gain economic benefits. In the end, the player who can build the most powerful trading empire wins the game.
The game board represents the city itself and the narrow canyon that caravans must traverse in order to reach it, known as "the Siq." The canyon on the board is made up of three-dimensional plastic pieces, and players will push tiles representing the caravans through the passageway during play. The merchants in the game are represented by pre-painted pawns to further enhance the visuals of the game.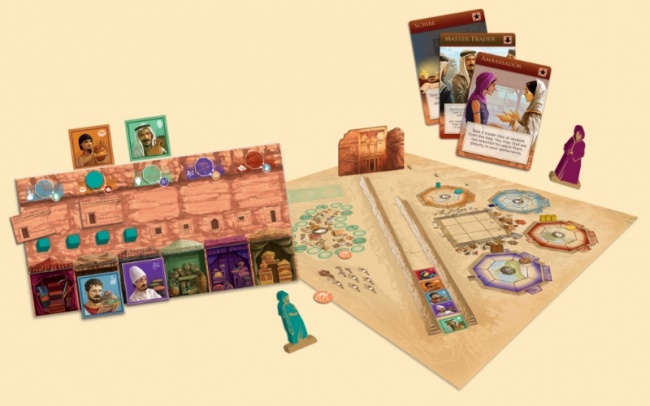 Passing Through Petra
will include 1 main game board, 5 plastic canyon wall pieces, 4 player boards with recessed spaces for tokens, 1 card holder, 50 cards, 122 tiles, 30 tokens, 4 pre-painted merchant pawns, 20 marker discs, 20 workers, 36 cubes, and a velvet bag. The game features artwork by Jani Orban. It is intended for 2 to 4 players, ages 14 and up, and takes about an hour to play. MSRP is $60.00.
Renegade will also release
Spell Smashers
, its monster-fighting word game in October (see "
Fight Monsters with Words in 'Spell Smashers'
"), along with expansions for two of its popular titles (see "
'Clank!' Innovates Expansion Style
" and "
'The Traveler' Expands 'Altiplano'
").