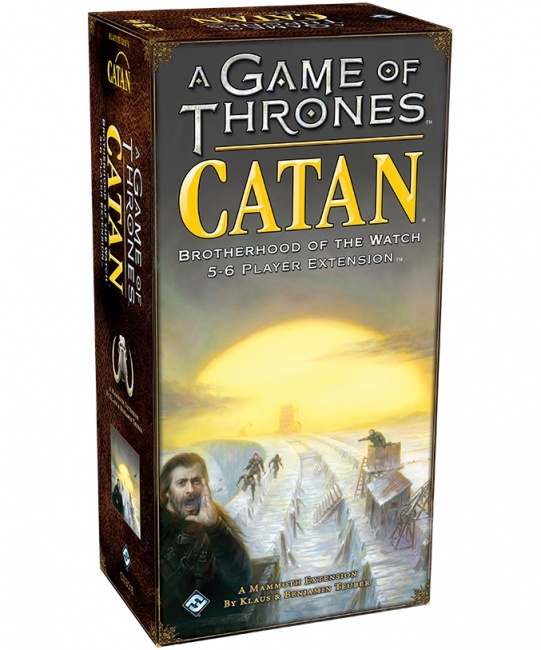 Fantasy Flight Games shared details for
A Game of Thrones Catan: Brotherhood of the Watch 5-6 Player Extension
, an expansion for the base game that released last year.
The Brotherhood of the Watch 5-6 Player Extension allows up to six players to compete in the game by adding additional territories for players to exploit for resources and two additional clans of wildlings threatening to breach the Wall and plunder the Gift. As in the base game (see "Fantasy Flight Combines 'Catan' With 'Game of Thrones'"), players must build up their holdings Catan-style, using the familiar resources to pay for roads and settlements, while recruiting guards to protect their section of the Wall from wildling attacks.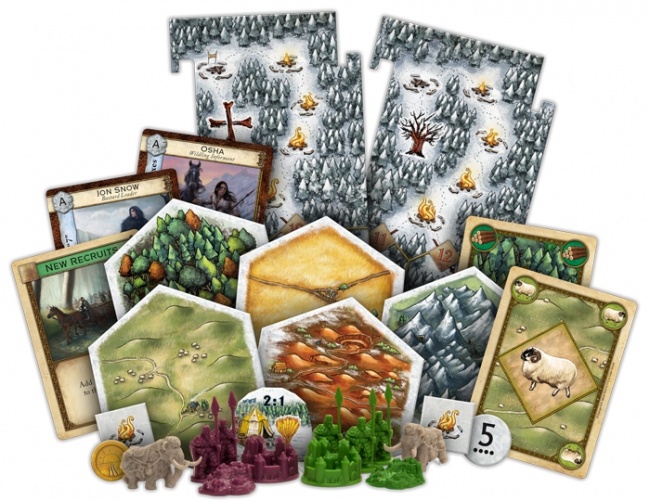 In addition to the components needed to add two additional players to the game, the expansion offers four new hero cards that players can use to advance their plans, based on characters from the books. The wildlings get reinforcements as well, in the form of mammoths that support their warriors. Mammoths do not raid the Gift like regular wildlings, instead altering their behavior based on the number of mammoths in support of each attack.
Click on the gallery below to see some of the components included in the expansion.
As an expansion, a copy of the base game is required to use the components included in the Brotherhood of the Watch 5-6 Player Extension, and doing so expands the maximum number of players to six. MSRP is $49.95. Release date was not announced.
Catan continues to confirm its evergreen status, holding the #2 spot on ICv2's list of top-sellers last spring (see "Top 10 Hobby Channel Board Games--Spring 2018"). Next month, a version of the game set in the Inkan Empire is scheduled to release (see "Build the Inkan Empire in New 'Catan Histories' Game").