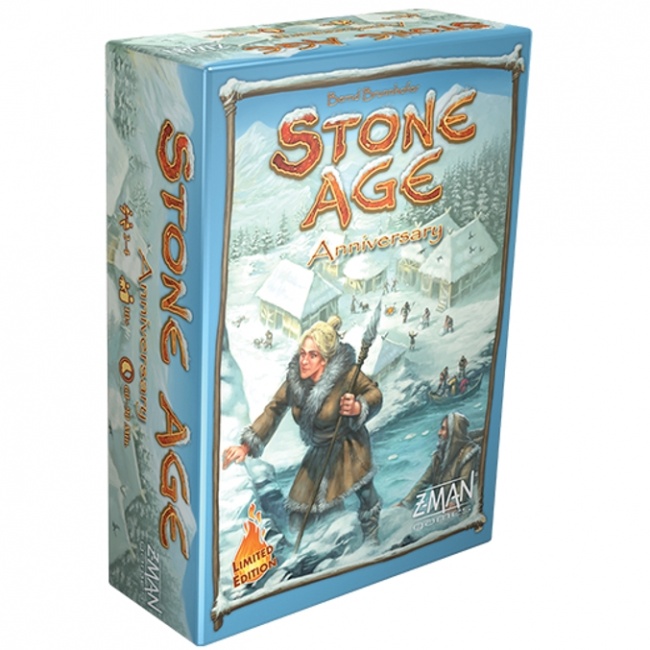 Z-Man Games is celebrating the 10th Anniversary of Bernd Brunnhofer's popular worker placement game
Stone Age
with a special anniversary edition.
In Stone Age, players are leaders of tribes, and must allocate their tribe members into various jobs to keep the tribe running. Some collect wood, work in the quarry, wash gold from the river, trade, or hunt. The goal is to produce enough resources, and food to keep their population fed.
Stone Age Anniversary has the tribes facing winter. They must now insulate buildings for warmth, gather resources, and store food to avoid starvation. It includes a double-sided board, upgraded components, and new options for playing in the winter. The game is for 2 – 4 players, ages 10 and up, and plays in 60 – 90 minutes. MSRP is $79.99. Release is planned for Q4.
Stone Age was nominated for the 2008 Spiel des Jahres, and received many other awards. It was featured on Season 3 Episode 5 of the web show TableTop (see "'TableTop' Season 3 Game List Released"). Stone Age Jr./My First Stone Age won the 2016 Kinderspiel des Jahres, Best Children's Game (see "2016 'Kinderspiel des Jahres' Winner Announced").
Stone Age, produced by German game publisher Hans im Gluck, was first published in the U.S. by Rio Grande Games. Hans im Gluck made a deal with Z-Man Games to release its titles in the fall of 2012 (see "Hans im Gluck Goes With Z-Man Games").