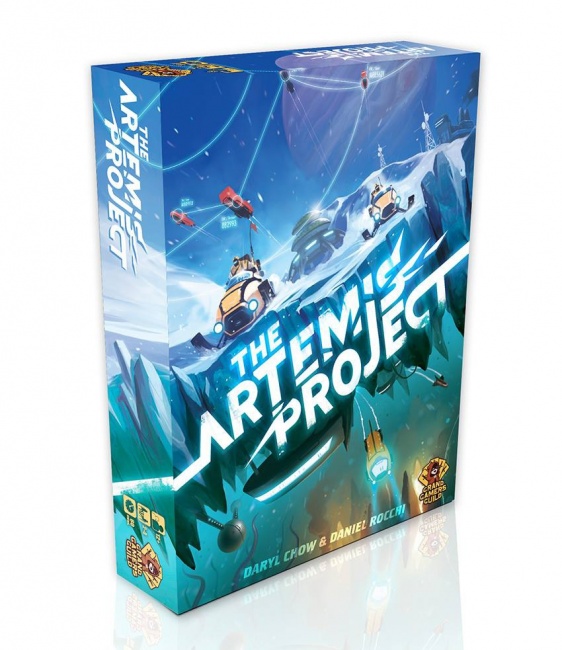 The science fiction worker placement game
The Artemis Project
will be released next May by Grand Gamers Guild.
Astronomers have claimed that Jupiter's frozen moon Europa is the most likely place in our solar system to find extraterrestrial life. In The Artemis Project, players are sent to that inhospitable world to become "Stabilizers," responsible for building and maintaining mankind's first colonies there. Using dice as "workers," players bid on certain tasks such as collecting energy from volcanic vents, mining resources to build new structures, or recruiting new colonists. Larger die values offer greater benefits, but smaller dice are resolved first, forcing players to balance speed versus payoff. After six rounds, the Stabilizer who can build the best colony wins the game.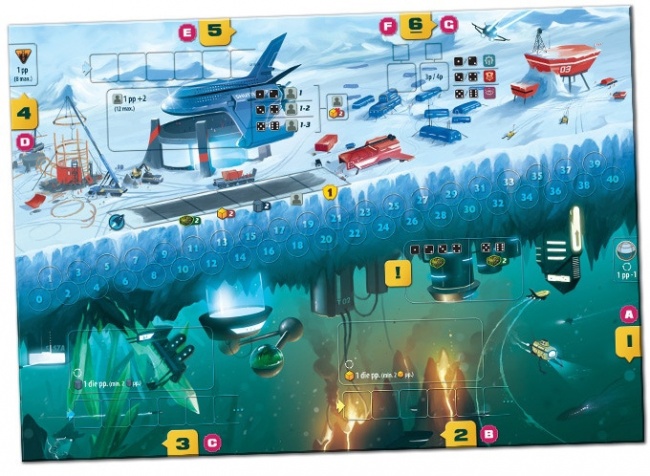 The Artemis Project
comes with 1 game board, 4 player mats, 70 tokens, 8 player markers, 28 cards, 44 tiles, 204 resource markers, 1 event marker, 1 phase marker, 1 cloth bag, and 24 dice. The game was created by Daryl Chow (
Overbooked
) and Daniel Rocchi (
Bomb Squad Academy
) and features artwork by Dominik Mayer (
Transatlantic
). It is intended for 2 to 4 players, ages 12 and up, and plays in about an hour. MSRP is $59.99.
Grand Gamers Guild is funding The Artemis Project through a Kickstarter campaign that surpassed its $25,000 funding goal in its first day, having attracted $36,059 from 641 backers (an average of $56.25 per backer) as of this writing. The campaign includes an offer for brick and mortar stores, who can receive a free demo copy of the game by purchasing five copies of the limited Kickstarter exclusive edition. The Kickstarter version of the game features upgraded player boards, bag, and packaging compared to the retail edition. Backer fulfillment is scheduled for May, with release into the trade to follow.
Earlier this year, Grand Gamers Guild partnered with Burnt Island Games to produce a new version of the game Endeavor (see "Critically-acclaimed 'Endeavor' Returns in New Edition").