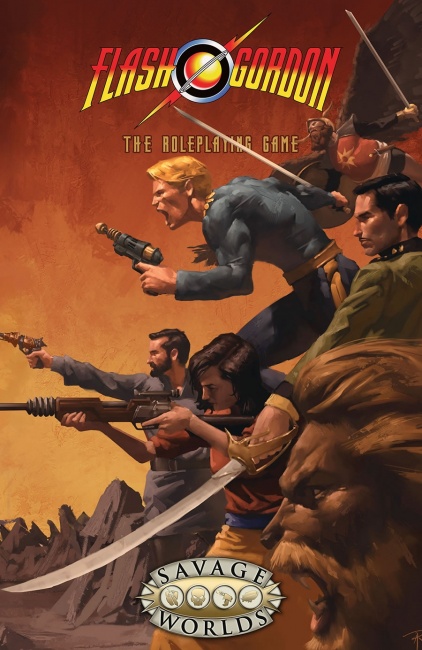 Pinnacle Entertainment Group will release the
Flash Gordon Role Play Game
which uses its
Savage Worlds
rule system in December.
The Flash Gordon RPG Core Rulebook will come in a softcover ($29.99) and a limited edition hardcover ($39.99). The tome includes updates to the Savage Worlds core rules system, new rules for character powers, races, Edges and Hindrances, gear, rocket ships and some unique setting rules. There is a gazetteer to the world of Mongo, a Plot Point campaign, Savage Tales, and a special section of heroes, villains and beasts for the Game master to peruse. The book does require a copy of the Savage Worlds Core Rules to play.
Flash Gordon Kingdoms of Mongo
is a comprehensive guide to the many lands on, above, or within the planet Mongo. The guide explores the cultures, geography, technology and citizens of each domain: Arboria, Coralia, Frigia, Kira, Radiuma, Sky City, Skyland, Tropica, and Valkr. There is information for players as well as a secret GM section that includes new adversaries and Savage Tales. A softcover ($29.99) and a limited edition hardcover ($39.99) will be available.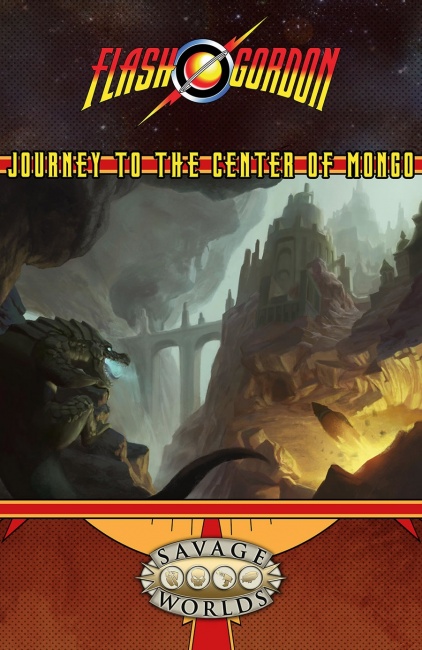 The
Flash Gordon RPG: GM Screen + Journey to the Center of Mongo Adventure
will include a tri-fold GM screen plus a 32-page adventure played out in six chapters. MSRP is $19.99. The
Flash Gordon Double Action Deck
includes two decks of playing cards with art from Alex Raymond and others. (In Savage Worlds, action cards are used for initiative.) MSRP is $19.99.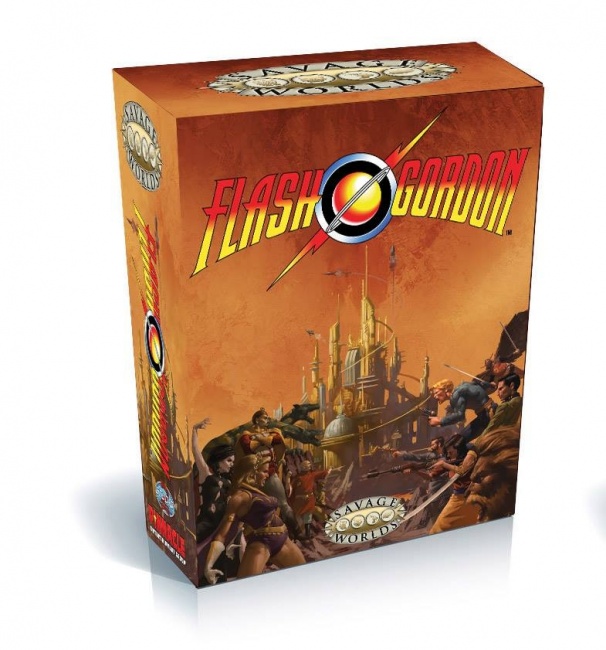 There is also a
Flash Gordon Box Set
that includes both hardcover books mentioned above, the GM screen and adventure, the card decks, plus Combat Map 1: Arboria & War Rocket; Combat Map 2: Coralia & Fast Pursuit Rocket; Bennies (INCLUDING five Conviction chips featuring Flash Gordon) (set of 25); Custom Dice with Savior of the Universe Wild Die; Map of Mongo; A Set of 6 Cliffhanger Cards; A Set of 4 Gorgeous Bookmarks; Combat Chart; 9 Ready to Play Pre-Generated Archetype Characters; and a 2 Propaganda Prints. MSRP is $149.99. (The core rules for
Savage Worlds
are required to play.)
Pinnacle ran a Kickstarter in 2017 to produce the series, and received $109,892 from 1027 backers ($107.00/ backer average) (see "'Flash Gordon' Comes to 'Savage Worlds'").