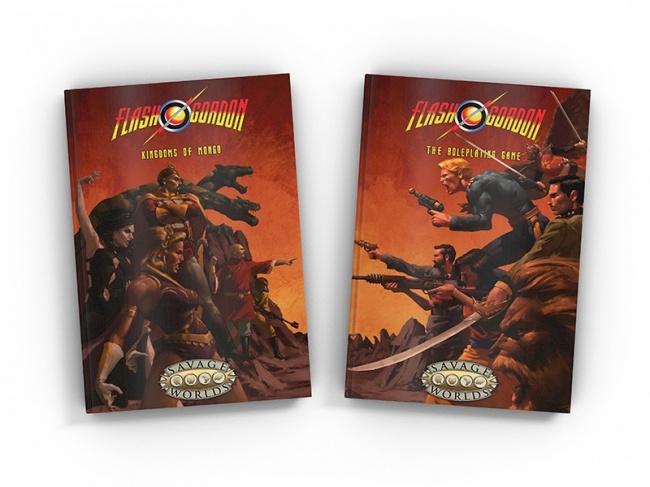 The multi-genre role playing game
Savage Worlds
is rocketing into a pulp classic with
The
Savage World of Flash Gordon
, releasing next August. Pinnacle Entertainment Group is partnering with Studio 2 Publishing to offer game retailers an opportunity to get a limited-edition
Collector's Box Set
as early as June.
Like other Savage World game settings, The Savage World of Flash Gordon is designed for fast, high-action play with a strong cinematic feel. Written by Scott Woodard, the book draws on over 80 years of Flash Gordon history, covering every aspect of that setting from the original comic strips by Alex Raymond, to the motion picture serials, and even the cult classic 1980 film. Doubling as a Flash Gordon resource, it features information about numerous Flash Gordon settings and includes profiles of more than 50 exotic creatures.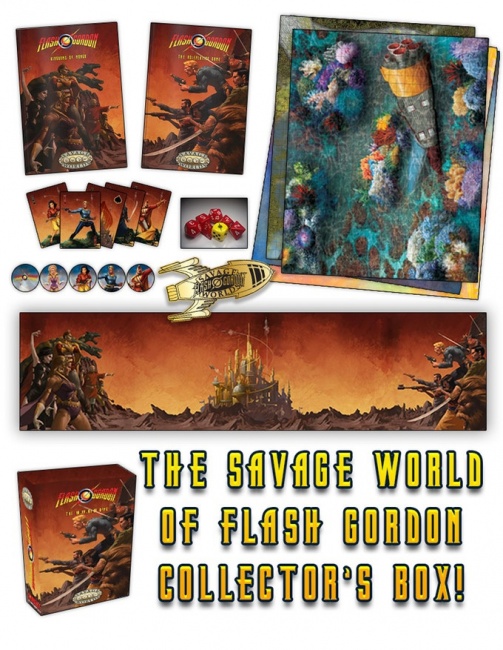 The Savage World of Flash Gordon
also adds a new game mechanic to
Savage Worlds
called "Cliffhanger." This system gives players a hand in crafting the storyline through the use of the Cliffhanger token that allows them to add a break in the action so their characters can recover their "Bennies." But, like the original serials, when the action picks up again they may find themselves in a new and dangerous challenge.
The game will include two books with the initial release: The Savage World of Flash Gordon rulebook and the Kingdoms of Mongo sourcebook. Both books will be 192-page softcover books with an MSRP of $39.99. A limited run of hardcover books are planned at $49.99 MSRP. A tri-fold Game Master screen will also be offered together with a 32-page adventure module for $19.99.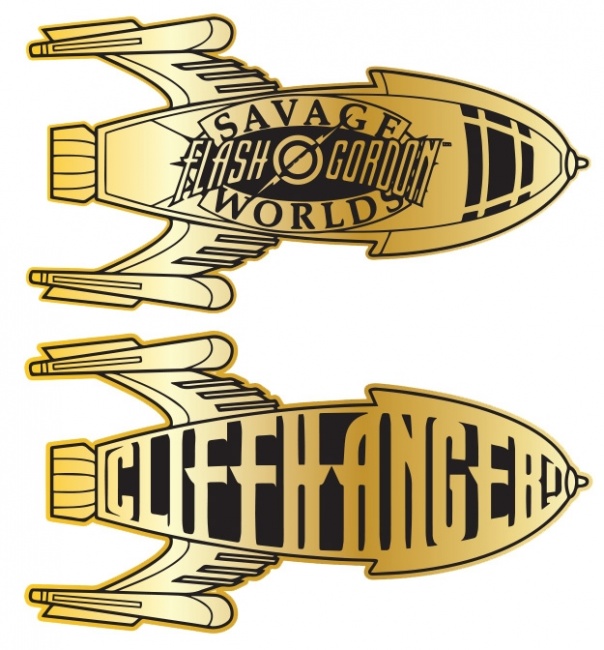 Pinnacle is funding the production of
Savage World of Flash Gordon
with a Kickstarter campaign that has attracted $28,517 from 253 backers (an average of $112.72 per backer) on its first day, with 13 days remaining. The campaign includes a retailer-only backer option through which retailers can order the special limited-edition
Collector's Box Set
which adds an exclusive polished brass Cliffhanger token, both books and the
Game Master Screen
, two double-sided combat maps, two Action Decks, 25 tokens, and a set of custom dice. The MSRP for the
Collector's Box Set
(containing softcover books) is $149.99, with a release date of August 2018. Retailer backers may order the
Limited Edition Collector's Box Set
as described above, with fulfillment at the same time as other Kickstarter backers in June.
The Savage World of Flash Gordon is part of a trio of new role playing games using the Savage World system based on licensed comic properties (see "Pinnacle Announces Three Comic Book RPG Adaptations").