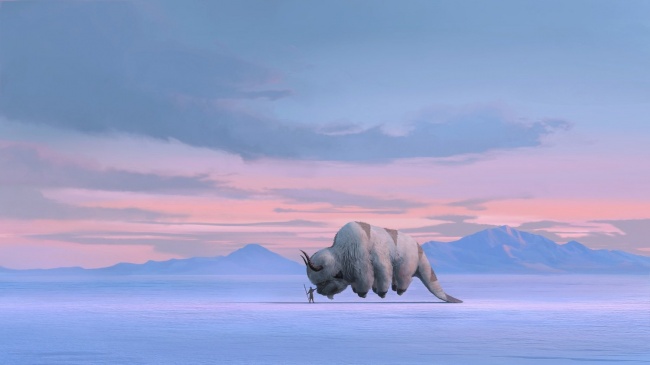 Netflix announced plans for a live-action
Avatar: The Last Airbender
series that will be helmed by the original showrunners from the Nickelodeon series.
The Netflix insider Twitter account shared concept art from John Staub of Appa, Aang's flying sky bison. It was quickly followed by a Tweet from NXOnNetflix which confirmed that original creators Michael Dante DiMartino and Bryan Konietzko will be back to helm the series.
"We're thrilled for the opportunity to helm this live-action adaptation of Avatar: The Last Airbender. We can't wait to realize Aang's world as cinematically as we always imagined it to be, and with a culturally appropriate, non-whitewashed cast," DiMartino and Konietzko said in a statement.
"It's a once-in-a-lifetime chance to build upon everyone's great work on the original animated series and go even deeper into the characters, story, action, and world-building. Netflix is wholly dedicated to manifesting our vision for this retelling, and we're incredibly grateful to be partnering with them."
The original Avatar: The Last Airbender animated series ran for three seasons on Nickelodeon from 2005 to 2008, which was followed by The Legend of Korra in 2011 (see "'Legend of Korra' on Nickelodeon"). Dark Horse began releasing a popular comic book series that continued Avatar: The Last Airbender in 2011 (see "Dark Horse Launching 'Avatar: The Last Airbender' Publishing Program") which continues to add new releases even now (see "Dark Horse Tells More 'Avatar: The Last Airbender' Tales"). The properties also spawned numerous card and board games (see "'Avatar TCG' Introduces Quickstrike" and "First Expansion for 'Legend of Korra' Board Game").