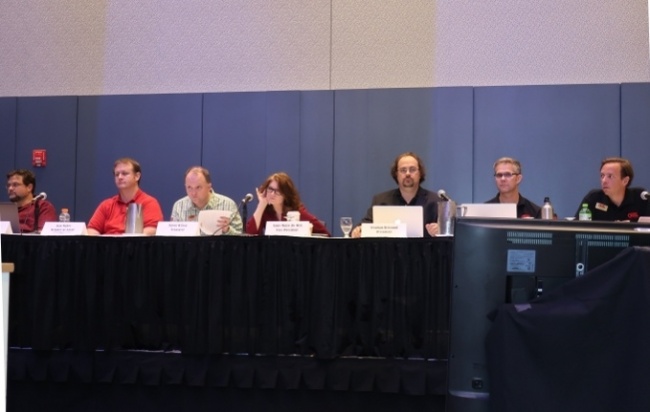 In a dramatic moment at the GAMA Special Membership Meeting called to consider the board's action on the Executive Director position (see "
GAMA Board Calls Membership Meeting
"), long-time board member Mike Webb of Alliance Game Distributors resigned, effective September 30.
His statement came as the chair, organization President Stephan Brissaud, called on board members for initial reports. "Since the last meeting I've spent over 30 days and well over 60 hours involved in the investigation of the incidents at Gen Con, gathered witness statements from seven individuals as well as speaking with numerous people involved with Gen Con and the management of the convention center in Indianapolis," he began, focusing on incidents that led to Brissaud's expulsion from the show in August.
"I provided that all to this board," he continued. "You've seen the results of that, that's on record as far as the board's movement. The vote was properly taken. I'm not in any way saying that that vote was not binding, however I do not believe the results of that are in keeping with something that I can support, and therefore I am turning in my resignation effective September 30th from this board of directors."
Webb then rose from his seat on the dais and handed his resignation to organization Secretary Brian Dalrymple.
Brissaud said "Thank you," and moved on to ask for reports from any other directors.
While it was clear from the GAMA announcement of its decision, which said that "a majority" of the board had favored the censure motion (see "
GAMA Board of Directors Censures Organization President
"), that it was not unanimous, Webb's resignation illustrates the depth of the disagreement, at least for him.
At the end of the day, at the urging of a member of the audience, Webb received thanks for his decade-plus service on the board with a standing ovation that included all of the other board members.