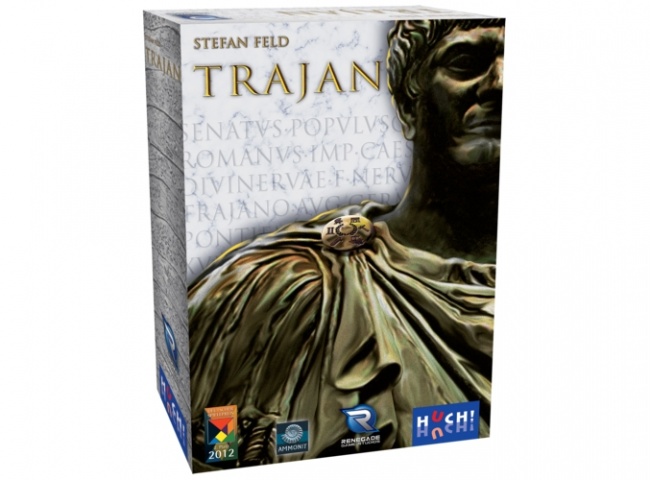 Renegade Game Studios has partnered with German publisher Huch! to produce a reprint of the critically-acclaimed
Trajan
, releasing in December.
Originally released in 2011, Trajan makes players responsible for developing the Roman Empire following the successful military campaigns of the emperor Trajan. The game uses a rondel-based mechanic inspired by the traditional game Mancala, with players moving their pieces around the stages of their rondels to activate their actions. Over the course of the game, players earn points for improving the empire's political, military, and economic situation. The player who gathers the most points wins the game.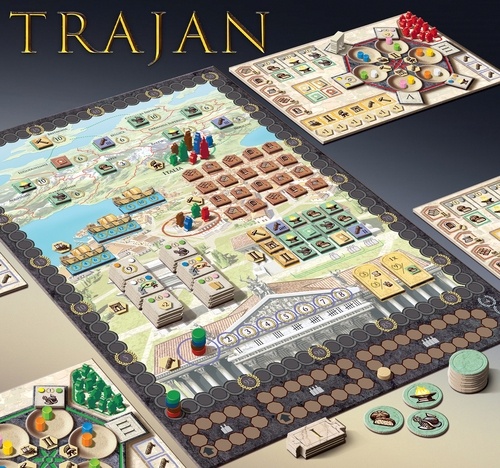 Trajan
comes with 1 game board, 4 player mats, 214 cardboard counters, 125 wooden pieces, 60 cards, and 1 cloth bag. It features illustrations by Jo Hartwig (
Samarkand: Routes to Riches
,
Toledo
), and is intended for 2 to 4 players, ages 13 and up. Playing time is between 1 and 2 hours. MSRP is $70.00.
In January, Renegade plans to release lighter fare, including the dexterity-based Slap It! (see "Bop the Beasties in 'Slap It!'"), a romantically-themed version of its hide-and-seek kitten game (see "'Kitty Paw: Valentine's Day Edition'"), and the fantasy business game Bargain Quest (see "Renegade Picks Up 'Bargain Quest'").