We round up here key digital comics news from New York Comic Con, which included news of a new digital-first prequel to a classic BD, a panel discussion of different digital business models, and an announcement of a new webcomics portal.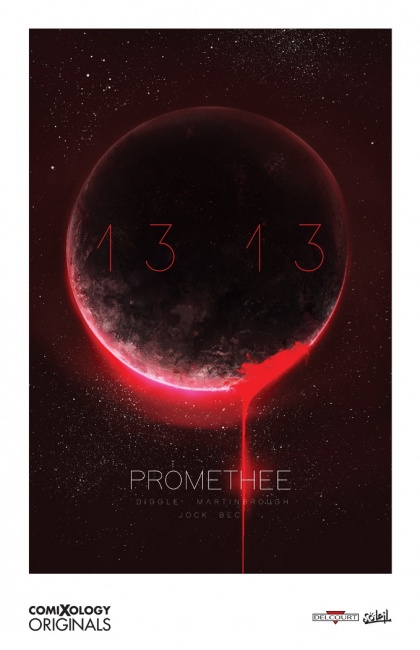 ComiXology to Do Promethee Prequel
ComiXology held a special press briefing to promote a new digital project: A prequel to the French series
Promethee,
to be published simultaneously in French and English. The original series by Christophe Bec is a 17-volume science fiction saga about a series of strange events that happen worldwide at 13:13 p.m. each day. ComiXology's two-volume prequel,
Promethee 13:13,
will be written by Andy Diggle with interior art by Shawn Martinbrough and covers by Jock. Like
Star Wars
,
Promethee
is a complex story that offers multiple opportunities for side stories and world-building, so there is room for more spin-offs in the future.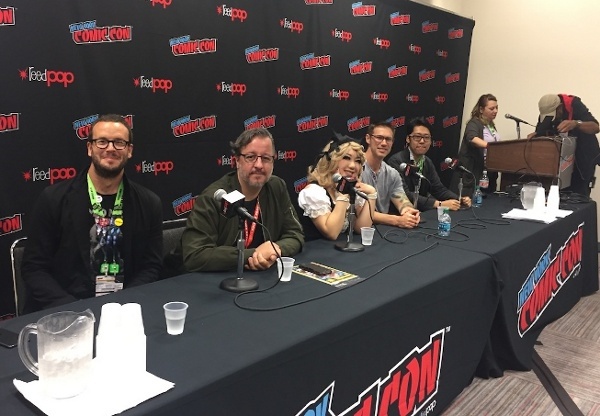 Age of Digital Comics Panel
The "Age of Digital Comics" panel at NYCC featured guests from three different platforms (Michael Son of Tapas Media, Tom Akel of Line Webtoon, and Ben Wolstenholme of Madefire) as well as webcomics creators Dean Haspiel (who pioneered the form with his Act-I-Vate collective back in the Livejournal days) and the singly-named Michi, creator of
Born Sexy Tomorrow,
which runs on the Tapas site. (Notably absent from the panel was the biggest digital provider, comiXology.)
Tapastic and Webtoon are both webcomics platforms, but their business models are slightly different. Tapas is monetized by ads and direct payments. "A lot of our readers are very young, and a lot of young readers don't have access to credit cards," said Son. So Tapas adopted a system used by video game apps: Readers can watch video games to earn in-app currency that translates to real dollars. In addition, Tapas has a premium program with about 300 titles. "One of the challenges that we still face is the idea of paying for digital bits," said Son. "It's still kind of an abstract concept, and not everyone has gotten on board for it. We try to frame it around 'hey you are supporting the creator.'" The site has gone from eight creators in 2012, when it launched, to over 35,000 today.
Akel described Webtoon as similar to YouTube, in that it allows creators to upload their comics and users to read them for free. In terms of monetizing, he takes a long view, which he can do because the site is owned by the Korean tech giant Naver. "It's like the Google of South Korea," he said, "and there, when Webtoon launched, it was ad-supported. The ad business is very real for Webtoon; it's just not in the U.S. (yet) on that scale." Webtoon gives selected creators a share of ad revenues, and some creators, such as Haspiel, are paid competitive monthly rates for a comic that is exclusive to the site. (Haspiel's titles are
The Red Hook
and
War Cry.
) At NYCC, Webtoon announced a new pay-ahead program that would allow users to get early access for a premium; this also already exists in Korea. Webtoon has 5 million unique users per month in the U.S. and 50 million worldwide, Akel said, and the content is ubiquitous in Korea, which leads to other ways to make money: "In Korea, Webtoons is Disney," he said. "The characters do safety videos on the airlines, the cartoons are on television, there are live-action Netflix series."
Madefire carries both original content and comics from DC Comics, Marvel, Image Comcics, and Dark Horse Comics, with about 40,000 comics on the platform altogether. Creators can upload their work for free, and it is put on the app with a straightforward revenue share: 30% to Madefire, 70% to the creator. Although it has more users on Android, Madefire brings in more revenue on iOS devices, "…because that is a wealthier audience, generally speaking, than Android," Wolstenholme said, and he also observed that Madefire readers seemed to be younger than print readers overall.
In addition to its focus on direct sales, Madefire differs from the other two platforms in its embrace of motion comics, virtual reality, and other immersive technologies. "We have to pay attention to what Apple and Google are investing in, and they are investing in bringing things to life in space, in reality, in our rooms, in our living rooms," said Wolstenholme.
One slide shown during the presentation had two statistics: There are 2,000 comic book stores in the U.S., and 224 million smartphones. That means that digital comics are much more widely accessible than print. In terms of readers, both Haspiel and Michi seemed to regard digital comics as adding to, rather than taking away from, the print market. "I couldn't do the webcomic I'm doing without the support of Line Webtoon," said Haspiel. Michi said that while there are some Marvel and DC readers in her audience, overall her readership is much wider than that. "They are from all over the world, they are from all races, they are all sexualities, and they are people I definitely couldn't have reached out to if I didn't have a digital medium," she said. "They come to us because we tell stories that we couldn't see in the mainstream."
Oni Press Launches Webcomics Portal
Just before the show, Oni Press announced a new webcomics site that will host free comics for all ages. The site launched with two YA comics, Megan Rose Gedris's
Spectacle
and Sarah Graley's
Kim Reaper,
as well as the nonfiction interactive comic
Draw Out the Vote,
which features a one-page story from each of the 50 states together with links to voter information for each state. Since then, they have added Paul Tobin and Colleen Coover's kids' comic
Banana Sunday
and Brahm Revel's action story
Guerillas.