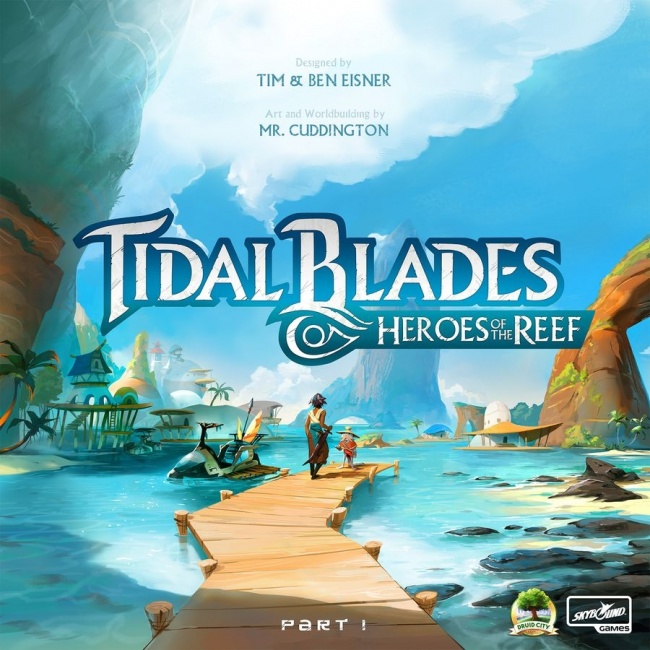 Skybound Games' Druid City Games will release the new character-driven, worker placement, dice management game
Tidal Blades – Heroes of the Reef
in late 2019. The game is currently seeking funding on Kickstarter.
Tidal Blades _ Heroes of the Reef is based on the art and worldbuilding of Mr. Cuddington (Lina Cossette and David Forest) a team whose artwork can been seen on games including The Grimm Forest, Charterstone, Santorini and Brass: Lancashire. The game is designed by Tim and Ben Eisner, the game is set in an aquatic fantasy world where an elite guard called the Tidal Blades guards the islands from Monsters from the mysterious Fold. The Tidal Blades are hosting a tournament to recruit new members, and players take the roles of young unique heroes that are competing for the honor of serving the guard. Over five days and nights players will gather resources, compete in Challenges on various islands, and even fight monsters. The goal is to raise their character's traits of Focus, Spirit, Resilience and Synergy to new heights.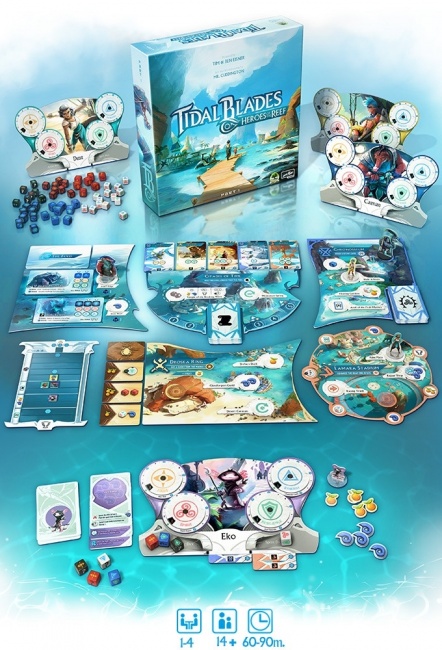 The game is for 1-4 players, ages 14 and up, and plays in 60 – 90 minutes. The retail edition has a tentative MSRP of $59.00. The deluxe edition has a tentative MSRP of $89.00. Skybound Games has confirmed to ICv2 that a trade release will follow backer fulfillment, which is currently set at October 2019.
The Kickstarter has raised nearly $280,000 from more than 3,400 backers as of this writing, well past its initial $75,000 goal, and will continue through November 9. There is a $100 retailer backer level for 6 or 12 units of the Deluxe Edition of the game.
This spring, Skybound Entertainment hired Druid City Games' James Hudson and moved Druid City Games IP library to Skybound as an imprint (see "Skybound Entertainment Hires James Hudson").