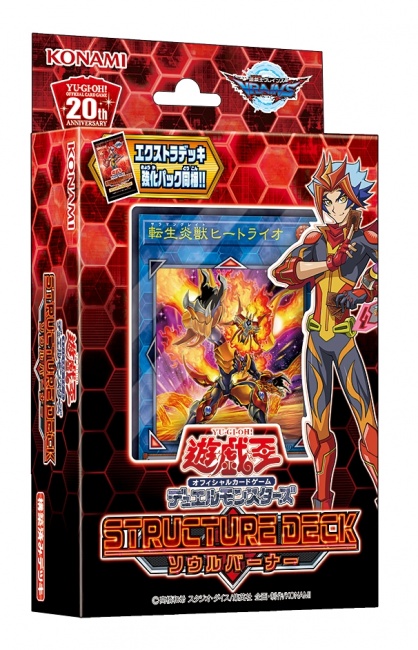 Konami Digital Entertainment has shared new details for the
Yu-Gi-Oh! Structure Deck: Soulburner
releasing February 15.
Konami teased the deck's release at New York Comic Con (see "New Details, Pic for 'Yu-Gi-Oh!' Speed Dueling Launch"), and now has confirmed that Soulburner's Salamangreat Deck from Yu-Gi-Oh! VRAINS is the basis for this product. It will offer defeated monsters a second chance as part of its "reincarnation" strategy. This deck powers up its boss monsters by sending the first copy of a "Salmangreat" boss monster to the Graveyard to summon a second copy, with the new one granted an extra ability well beyond what it had in its first life. The Salamangreat Sanctuary field spell allows players to replace one Link Monster with another. There is also a new Link Monster that adds this spell from a player's deck to their hand and has protective effects that work from the graveyard.
Though the Structure Deck: Soulburner primarily focuses on Link Summoning, players can add card from Soul Fusion and Savage Strike Boosters to expand its specializations to include Ritual Summoning and Fusion Summoning. The deck also includes an expanded 6-card Extra Deck to fuel its monster-centric strategy.
The 46 cards in this release include a 40-card Main Deck and a 6-card Extra Deck for a total of 46 cards, including 39 Commons, 4 Super Rares, and 3 Ultra Rares. The box also includes a beginner's guide and a double-sided deluxe game mat/dueling guide. MSRP is $9.99.