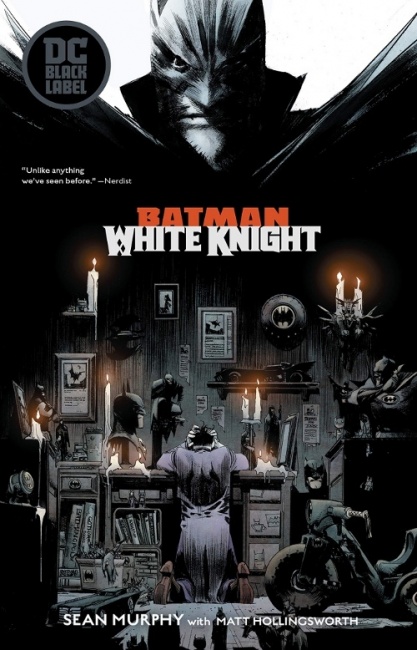 DC Entertainment is planning a TV and online ad campaign supporting the first Black Label collection,
Batman: White Knight
, but is declining to say when the campaign is due to run. DC informed comic retailers last week that TV ads will run on Syfy and TruTV, and online on YouTube, Facebook and Instragram.
The ad campaign is great news for the visibility of the title, which is already getting the sales benefit of over 1.5 million views of the ads from their unpaid presence on YouTube. But when we asked when the paid campaign will run, DC declined to answer. Comic retailers could plan their inventory better if they knew when the ads are due to run; we wonder if chain retailers have the same lack of information or are being informed of the dates for DC's campaign.
Batman: White Knight
will be the top graphic novel in comic stores in October on the Diamond charts, due to be released this week, DC announced. It charted in the #4 position on the BookScan adult graphic novel chart for October, provided to ICv2 by NPD BookScan (see "
October 2018 BookScan -- Top 20 Adult Graphic Novels
"). DC announced Wednesday that it had debuted at #1 on the BookScan chart, but that must have been for the week of release, not the month. A second printing has been ordered.
Batman: White Knight
was rebranded as Black Label after launch (see "
DC Begins Rebranding Old Material as Black Label
"). A second volume is planned for 2019.
See below for the :15 and :30 versions of the ad.