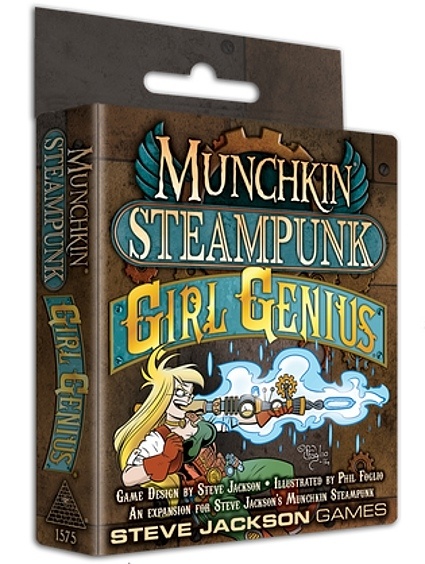 Steve Jackson Games and Studio Foglio have announced an expansion for the
Munchkin Steampunk Girl Genius Deluxe
game, originally released in 2015 (see "
Hobby Exclusive 'Munchkin Steampunk Deluxe'
"). The game is a crossover between Steve Jackson's
Munchkin
card game and Phil and Kaja Foglio's long-running
Girl Genius
steampunk webcomic. Foglio is providing the art for the expansion, which includes Agatha, along with her friends and foes, plus rules for becoming a Spark and using Mad Science to improve Items to destroy foes, grab their Stuff, and win.
The 56-card tuck box expansion includes 25 Treasure Cards, 31 Door Cards, and 24 Tokens. The base game is required to play.
The project has funded on Kickstarter, raising around $60,000 as this is written, from 1,303 backers ($45.91 per backer), with 11 days to go.
The Kickstarter is offering a retailer level. Kickstarter delivery is planned for August 2019.
Click Gallery below for card images!