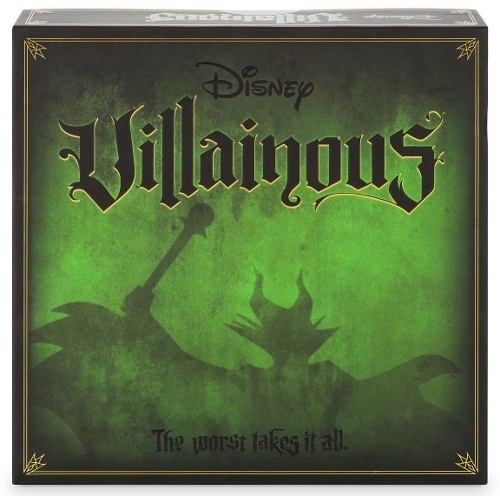 News on two game awards were released recently, from the Toy Association (Game of the Year) and ChiTAG (Game Innovator of the Year and Innovative Arts & Visuals of the Year). One game appeared in both lists:
Disney Villainous
by Ravensburger North America's Wonder Forge brand (see "
Being Wicked Has Never Been More Rewarding
"), which we've been hearing good things about.
The Game of the Year is one of the awards given by the Toy Association each year at Toy Fair in February. Finalists were announced, including North Star Games' Monster Match:
Disney Villainous Game by Wonder Forge (Ravensburger)
Dr. Biscuits' Radical Road Trip (Barry and Jason Games & Entertainment)
Fryin Flyin Donuts (Maya Toys)
Monster Match (North Star Games)
Relative Insanity (PlayMonster)
Unstable Unicorns (TeeTurtle, LLC)
Voice Originals: When in Rome (Sensible Object)
ChiTAG announces its awards at the beginning of Chicago Toy and Game Week Fair. The winner and nominees for Game Innovator of the Year are:
Don Ullman and Bob Driscoll for Don't Step In It by Hasbro
Bang Zoom for Chow Crown from Hasbro
Jeff Foxworthy for Relative Insanity from PlayMonster
Rob Daviau and Justin D. Jacobson for Fireball Island: The Curse of Vul-Kar by Restoration Games
Seven Towns for Greedy Granny by Goliath Games
And games were also a big presence in two other award groups, for which we show the relevant names.
Nick Metzler of Spin Master for Hail Hydra
Daryl Andrews for The Oregon Trail by Pressman Toy/Goliath Games
Jeff Lai for Maki Stack by Blue Orange
Elan Lee and Matt Inman of Exploding Kittens for Bears vs Babies
Geizi Guevara, Mike Freeth, Patrick Murray, Chris Wickman of Spin Master for The Cat Game
Prospero Hall for Disney Villainous by WonderForge
Sabrina Miramon (Illustration), Chris D'Angelo, Greg Stata, Kelly Miele (Graphic/Packaging Design) and Kathy Beyerle (Product Design) of ThinkFun for Shadows in the Forest