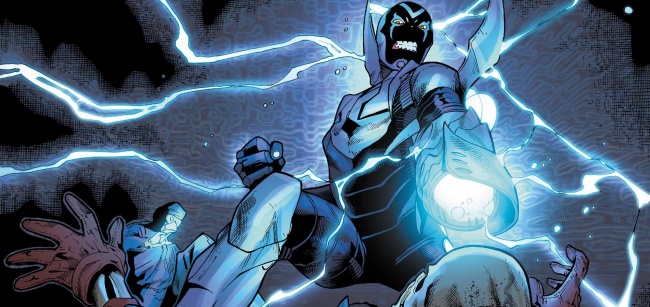 Warner Bros. and DC are developing a
Blue Beetle
movie that focuses on the Jaime Reyes version of the character,
The Wrap
is reporting.
Gareth Dunnet-Alcocer, who wrote Universal's
Scarface
remake, will write the screenplay. Zev Foreman will be executive producer for Warner Bros.
Jamie Reyes is the most current incarnation of the Blue Beetle character. He was created by Keith Griffen, John Rogers and Cully Hamner. He first appeared in
Infinite Crisis
#3 in 2006. The teenaged Reyes lives in El Paso, Texas, and found the Blue Beetle scarab on the way home one day. It grafted to his spine and gifted him with body armor, weaponry, and the power of flight.
The last attempt at developing a Blue Beetle Film was in 2015 (see "
Booster Gold / Blue Beetle Film in Development
"). Prior to that DC attempted to develop a TV series (see "
DC Developing Live Action 'Blue Beetle'
").