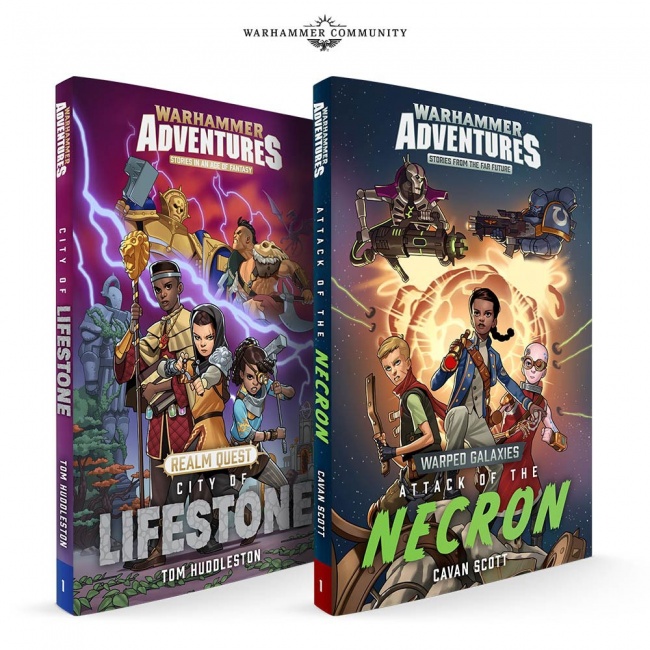 Games Workshop's Black Library imprint, which publishes fiction books and novels based in the company's iconic universes, is publishing a new line of books intended for younger readers. Two
Warhammer Adventures
series will launch in February.
The Warped Galaxies series is set in the "grimdark" Warhammer 40,000 universe, centered on the 12-year old explorer Zelia and her group of friends. The first two titles in this series, Attack of the Necron and Claws of the Genestealer both feature different alien races from the Warhammer 40,000 galaxy, both written by Cavan Scott (Star Wars: Adventures in Wild Space-The Escape, Doctor Who, Judge Dredd).
On the fantasy side, the Realm Quest series takes its inspiration from the Age of Sigmar game setting. These books feature the adventures of the healer Elio and his friends as they find their way through the Mortal Realms. City of the Lifestone and Lair of the Skaven will open this series, both written by Tom Huddleston (Star Wars: Adventures in Wild Space).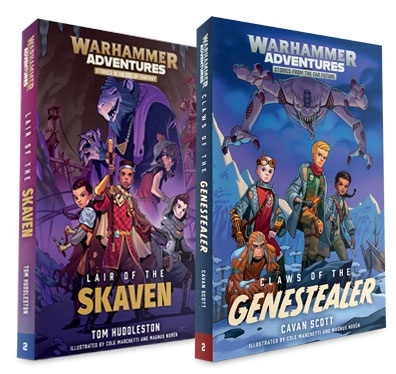 The first title in each series,
Attack of the Necron
and
City of the Lifestone,
will release in February, with the second books scheduled for spring. A third pair of books,
Secrets of the Tau
and
Forest of the Ancients,
is planned for summer release.
In addition to print versions, Black Library will offer e-book editions and audiobook versions narrated by Doctor Who alumni David Tennant (reading the Warped Galaxy books) and Billie Piper (reading Realm Quest).
Games Workshop has been actively courting new and younger audiences for its game lines, launching its Warhammer School Clubs program earlier this year (see "Games Workshop Expands Space Marine Recruitment to Schools") as well as a line of less-complex entry-level board games (see "Games Workshop Offers Three Intro Games").