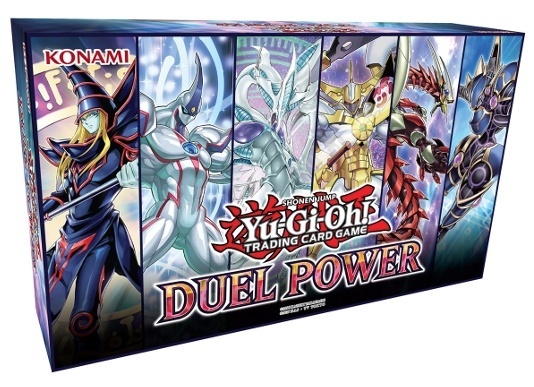 A new expansion set for Konami's
Yu-Gi-Oh! Trading Card Game
, called
Duel Power
, will release on
April 5
[On March 19 - release updated to April 3].
The
Duel Power
set will include a total of 100 cards, all with "Ultra Rare" rarities. The complete set features 40 new cards drawn from across the history of the
Yu-Gi-Oh!
animated series, such as Magician of Chaos, Cyber Dragon Nachster, Signal Warrior, Utopic Onomatopeia, and Number 39: Utopia Double. The other 60 cards will be reprints of popular cards, including four "discard" effect cards, spells, traps, Link Monsters, and some out-of-print cards.
The
Duel Power
cards will be packaged in booster packs with five Ultra Rare cards in each booster. The boosters will be sold as part of a boxed set, with each box holding five booster packs plus six new Ultra Rare variant art cards featuring the main monsters from each
Yu-Gi-Oh!
series: Dark Magician, Elemental HERO Neos, Stardust Dragon, Number 39: Utopia, Odd-Eyes Pendulum Dragon, and Decode Talker. Also included in each box is a double-sided game board that showcases
Yu-Gi-Oh!
history.
In January, Konami will begin its second
Lost Art Promotion
series (see "
A New 'Lost Art Promotion' For 'Yu-Gi-Oh!'
"), as well as launching the new
Speed Duel
format (see "
New Details, Pic for 'Yu-Gi-Oh!' Speed Dueling Launch
" and "
'Yu-Gi-Oh! Speed Duel' Gets First Booster
"). An all-foil set will release in March (see "
'Yu-Gi-Oh! – The Infinity Chasers'
").
In ICv2's most recent analysis of the best-selling collectible games,
Yu-Gi-Oh!
continues to rank third (on our PRO site, see "
PRO: Collectible Games Market Report and Top Brands Chart – Summer 2018
").