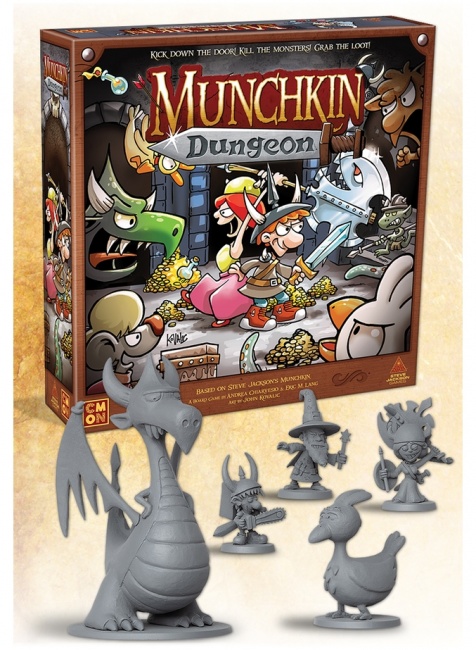 John Kovalic's famous
Munchkin
artwork will become 3D when CMON releases its
Munchkin Dungeon
board game based on the Steve Jackson staple. The first few sculpts for the game have been revealed as the company ramps up promotion for its upcoming Kickstarter.
Announced earlier this year,
Munchkin Dungeon
will be the first in a series of games CMON will produce under license from Steve Jackson Games (see "
CMON Reveals First Licensed 'Munchkin' Game
"). The game was designed by Eric M. Lang and Andrea Chiarvesio and translates the monster-killing, loot-hauling, back-stabbing flavor of the card game into a miniatures-based board game.
Players take up the mantle of
Munchkin
-style heroes, including the Wizard, Dwarf, and Thief, and explore the twisting passageways of the dungeon. The heroes and the monsters they face will be represented by plastic miniatures, crafted by CMON's sculptors based on the iconic John Kovalic series artwork.
Details about the game are still pending, including release date and MSRP. CMON will launch a Kickstarter campaign to raise funding for the project early next year.
Munchkin Dungeon
will be the first project in the multi-year deal between the two companies (see "
'Munchkin' Board Games
").