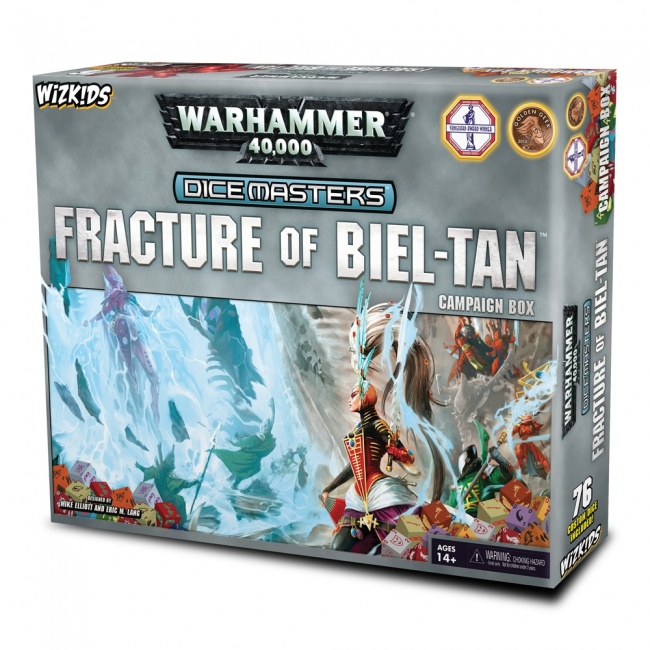 The crossover WizKids game
Warhammer 40,000 Dice Masters
will expand in June with three new sets releasing: the
Fracture of Biel-Tan Campaign Box
, the
Blood Angels – Black Rage Team Pack
, and the
Dark Angels – The First Team Pack.
Launched earlier this year under license with Games Workshop, Warhammer 40,000 Dice Masters combines the dystopian military sci-fi fantasy of Warhammer 40,000 with Mike Elliott and Eric M. Lang's customizable dice-and-card game Dice Masters (see "'Warhammer 40K' Invades 'Dice Masters'"). The three new sets releasing in June give players additional faction options to play, either on their own or in combination with previously released sets.
The Warhammer 40,000 Dice Masters: Fracture of Biel-Tan Campaign Box introduces the Ynnari of the Craftworld Biel-Tan and the Daemons of Chaos as new factions for the game. The set includes a dozen characters, including Skarbrand, the Masque of Slaanesh, the Yncarne, and Yvraine, with all of the dice and cards needed for them. The boxed set also has all of the materials two players need for the game, with Sidekick dice, Basic Action dice, dice bags, and game rules. MSRP is $39.99.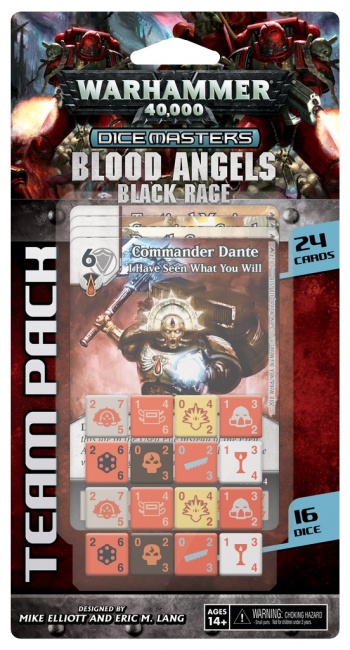 In addition, two new Chapters of Space Marines join the game, each with their own
Team Pack
:
The Blood Angels – Black Rage Team Pack features characters and equipment from the Blood Angels Chapter, including Commander Dante, the Death Company, and Sanguinary Priests.
The Dark Angels – The First Team Pack focuses on the mysterious Dark Angels Chapter, including Cypher the Fallen Angel and the Deathwing Knight.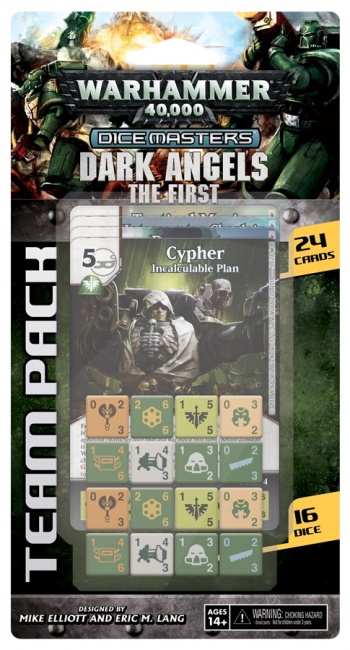 Each
Team Pack
includes 24 cards and 16 dice. They are compatible with all other
Warhammer 40,000 Dice Masters
sets. MSRP is $12.99 each.
Dice Masters continues to be a solid seller for WizKids, ranking #8 on ICv2's list of top-selling collectible games for the summer (on our PRO site, see "PRO: Collectible Games Market Report and Top Brands Chart – Summer 2018").
WizKids is ramping up its partnership with Games Workshop next year, releasing a board game set in GW's Age of Sigmar fantasy setting called The Rise and Fall of Anvalor in April (see "'Warhammer: Age of Sigmar' Board Game Coming").