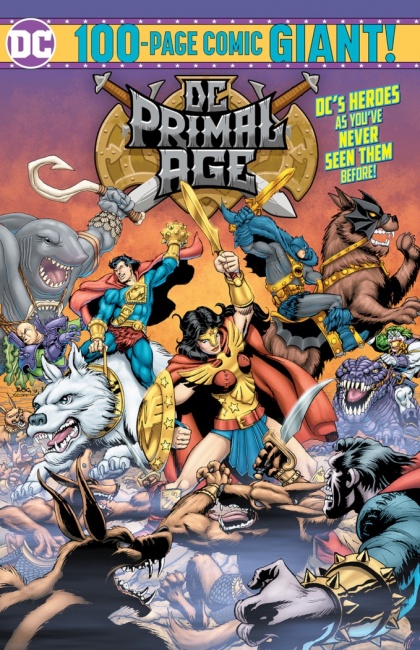 DC Comics has Increased the number of mass market stores selling its comics by 60% with a new program in Target with Funko. The program, which appears to be of limited term, puts a DC 100-page custom comic based on Funko's Primal Age figure line in a Funko endcap featuring the figures. Target has 1850 stores in the U.S.; DC is already in some 3000 Walmart stores (see "
DC Expands Walmart Program
").
The
DC Primal Age
one-shot, which revolves around sword and sorcery versions of DC characters, will feature-all new content: a lead 32-page story, "The Primal Age," by Marv Wolfman with art by Scott Koblish and five shorter stories written by Jerry Ordway, Louise Simonson, and Wolfman:
"Born on a Monday," written and drawn by Jerry Ordway
"Ice and Fire," written by Louise Simonson with art by Phil Winslade
"Darkest Knight," written by Louise Simonson with art by Brent Anderson
"The Joker's Wild," written by Jerry Ordway with art by Chuck Patton, Karl Kesel and Tom Derenick
"Not a Bird...," written by Marv Wolfman with art by Keith Pollard and Jose Marzan Jr.
The new Funko display is not up in all Target stores yet. A Target employee at the Madison, Wisconsin store we checked told us that they hadn't set the new Funko endcap yet because they had "too much clearance merchandise" taking up space.

Click Gallery below for Primal Age art!