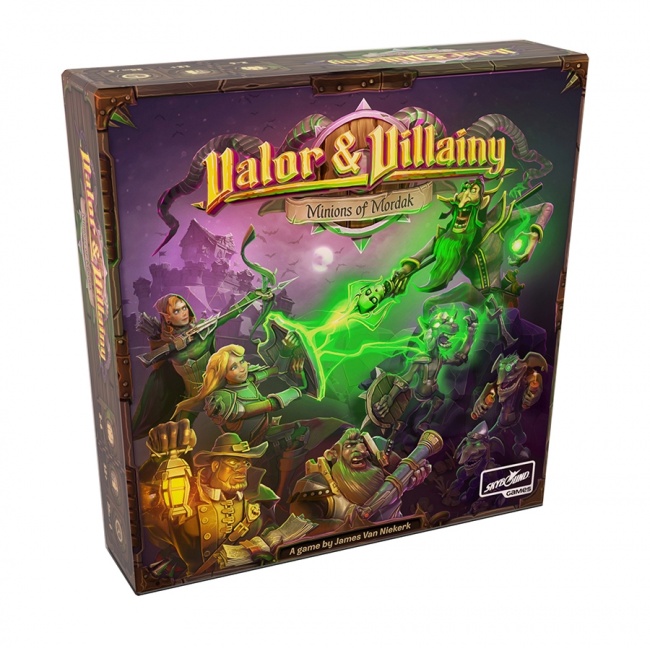 Details about
Valor & Villainy: Minions of Mordak
, which Skybound Games will release next January, have been released. The game is currently seeking funding on Kickstarter.
Announced in November (see "'The Walking Dead: Something to Fear' and 'Valor & Villainy: Minions of Mordak'"), Valor & Villainy: Minions of Mordak is an overlord-style board game with role playing elements. One player assumes the role of the comically evil wizard Mordak and his minions, while the other players act as the heroes trying to prevent his return to power.
The game is played on a tile-based map that the heroes explore during the game, revealing evil minions to fight and treasures to collect. Combat is resolved using the game's custom dice, while single-use spell cards provide humorous magical effects. As the heroes adventure, they gain levels which allow them to acquire new abilities or upgrade their dice. Meanwhile, Mordak also increases in power and ability. Ultimately, the two sides compete in a final face-off for victory in the game.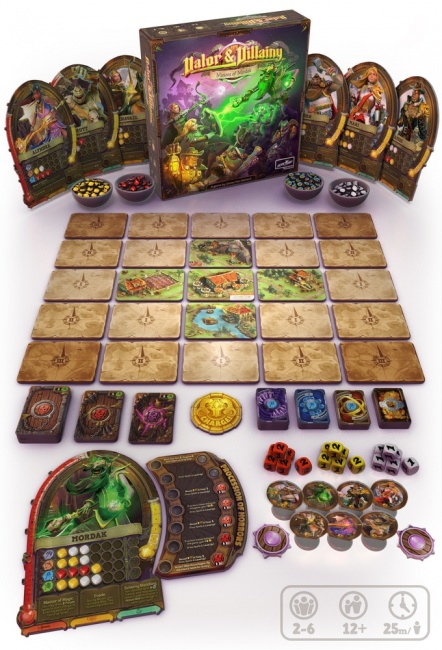 Valor & Villainy: Minions of Mordak
was created by James Van Niekerk, who also did the illustrations for the game. It includes 8 player boards, 8 character standees, 25 map tiles, 161 cards, 18 dice, and 137 tokens. The game is intended for 2 to 6 players, ages 12 and up, and takes about half an hour per player. MSRP is $40.00.
Skybound Games is seeking funding for the production of Valor & Villainy: Minions of Mordak through a Kickstarter campaign that has attracted $156,299 in pledged support from 2,555 backers as of this writing (an average of $61.18 per backer), with 17 days remaining in the campaign. The campaign offers the "Retail Edition" described above as well as an upgraded Kickstarter-exclusive "Deluxe Edition" that features 30mm plastic miniatures for the game's nine characters, engraved dice, a metal initiative token, and an upgraded storage tray from Gametrayz. The campaign includes a retailer-only backer option for stores that wish to purchase the Deluxe Edition.
Backer fulfillment is scheduled for January 2020, with release into the trade to follow.
ICv2 recently spoke with Skybound Entertainment Chairman/Partner Robert Kirkman about his latest comics, as well as the growing games business (see "ICv2 Interview: Robert Kirkman, Part 2").