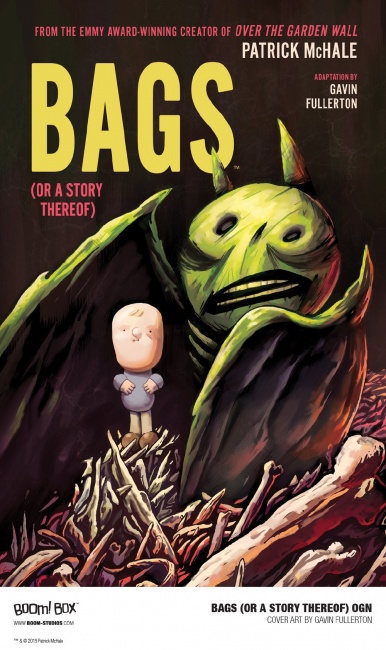 BOOM! Studios will release Patrick McHale's new original graphic novel
Bags (Or a Story Thereof)
. McHale, the creator of the Emmy Award-winning animated series
Over The Garden Wall
, is joined by artist artist Gavin Fullerton (
Space Chickens in Space
) and colorist Whitney Cogar (
Steven Universe
) on the July 10 release. The OGN is being released under the publisher's younger readers imprint KaBOOM!
Bags (Or a Story Thereof) is about a man, John Motts, and his dog Beth. When Beth goes missing, John's search leads him to a policeman's home, an advice-giving walrus, and the dark woods on the edge of town.
BOOM! releases comics and OGNs based on Over the Garden Wall, with a new one from Jonathan Case and John Golden set for release in October (see "Kids Comics Roundup: More 'Witch Boy,' 'Over the Garden Wall'").
McHale is also working on the script for Guillermo Del Toro's Pinocchio (see "Del Toro's 'Pinocchio'")
Click on the Gallery for a preview.