Now that the holidays are over, publishers have released a flurry of new announcements of kids' and YA titles, most of them to be released later this year.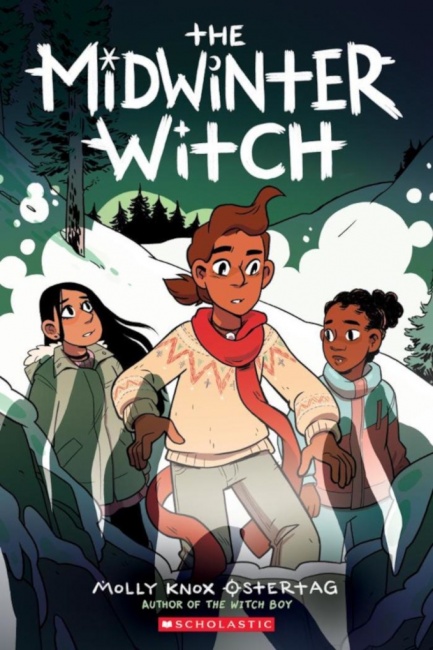 Graphix:
Scholastic's graphic novel imprint announced two new books in established series:
The Midwinter Witch, by Molly Knox Ostertag, is a followup to Witch Boy (see "Review: 'Witch Boy' GN") and The Hidden Witch (see "Review: 'The Hidden Witch' GN"). The new book will center around a midwinter festival; release is scheduled for November 5.

Sunny Rolls the Dice is the third book in the Sunny series by Babymouse creators Jennifer and Matthew Holm. The first book, Sunny Side Up (see "Review: 'Sunny Side Up' GN"), was nominated for an Eisner Award. The sequel, Swing It, Sunny, was released in 2017, and both books were among the that year's top sellers in the kids/tweens category (see "Top 10 Kids/Tweens Graphic Novel Franchises—Fall 2017"). Sunny Rolls the Dice is slated for an October 1 release.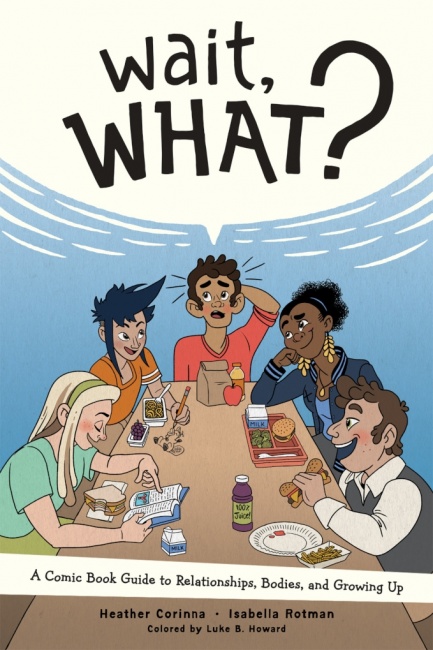 Oni Press:
Oni Press has unveiled four original graphic novels, all slated for fall release:
Wait, What? A Comic Book Guide to Relationships, Bodies, and Growing Up is just what the subtitle says, a comic guide to sexuality and relationships aimed at teens and pre-teens. The authors are Heather Corinna, founder of the blog Scarleteen (subtitled "sex ed for the real world") and sex educator Isabella Rotman. This book will be published on September 3 under Oni's Limerence Press imprint, which is usually reserved for adult titles.
Kriss: The Gift of Wrath, by Ted Naifeh, creator of Courtney Crumrin and Princess Ugg, and illustrated by Warren Wucinich, an artist on the Invader Zim comic. Kriss is a YA fantasy story in the tradition of Neil Gaiman's The Graveyard Book and Emily Carroll's Through the Woods, about a tormented young man who is given great powers with a terrible price: Anger. The book is due out on September 17.
Morning in America, by Magdalene Visaggio (Eternity Girl) and Claudia Aguirre (Kim & Kim), a young adult story set in the 1980s, follows a group of teenage girls who are convinced that the apocalypse is right around the corner—and only they can save their small Ohio town. The story is being released first as a serial comic, which launches on March 6; the collected edition is slated for an October 8 release.
Unplugged and Unpopular, by Mat Heagerty, Tintin Pantoja, and Mike Amante, puts the premise right in the title: Erin Song is already unpopular, and she gets even less cool when her parents take away all her devices. No phone, no tablet, no computer. That's when she starts to notice something is amiss: Aliens are making people disappear, using their devices as a distraction. This middle-grade story is scheduled for October 15.
Dark Horse Comics: Dark Horse continues its series of Disney tie-ins with Disney The Lion King: Wild Schemes and Catastrophes, an anthology collecting four stories about Simba's early years. The 72-page graphic novel, by John Jackson Miller, is scheduled for June 4, with an MSRP of $10.99.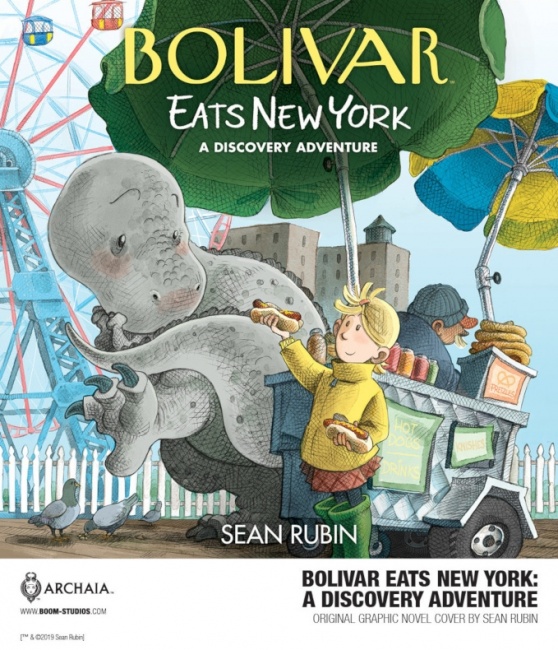 BOOM! Studios:
BOOM! Studios has three new young-readers stories queued up:
Bolivar Eats New York is a follow-up to Sean Rubin's Eisner-nominated Bolivar, a story about a dinosaur who lives in New York and blends in so successfully that nobody (except one very observant girl, Sybil) notices that he is a dinosaur. In Bolivar Eats New York, Sybil and Bolivar go on a culinary tour of the five boroughs, looking for the best foods in New York. The book is designed to be interactive, so adults and kids can read it together and find their favorite foods and landmarks. The book will be available in November 2019.
Over the Garden Wall: Circus Friends is an original graphic novel by Jonathan Case and John Golden that is set in the world of the Cartoon Network animated series Over the Garden Wall. In Circus Friends, the three main characters, Greg, Wirt, and Beatrice, meet up with a strongman and a clown who have run away from the circus. When Beatrice is kidnapped by an evil ringmaster, the friends have to team up with the performers to get her back. The graphic novel is scheduled for an October 2019 release.
Rocko's Modern Afterlife brings zombies into the world of Rocko, the star of the animated Nickelodeon series Rocko's Modern Life. The residents of O-Town are losing their minds, literally, and Rocko holes up in his house, planning to stay until they go away. But when his best friend Heffer is infected, he has to take action. Rocko's Modern Afterlife is a four-issue limited series by Anthony Burch and Mattia Di Meo, and issue #1 is scheduled for April 3, 2019.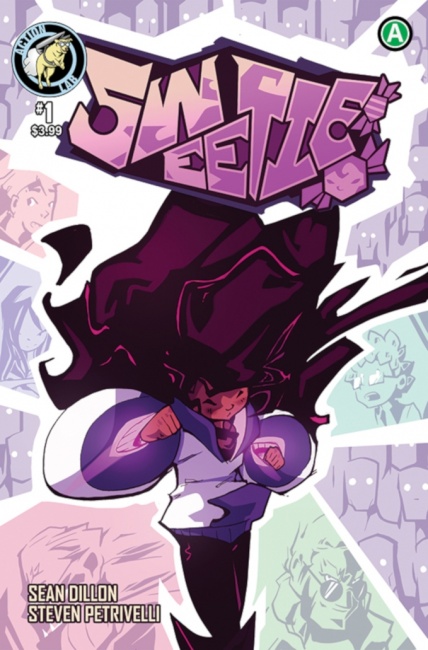 Action Lab:
Action Lab has announced a new all-ages superhero series,
Sweetie,
by Sean Dillon and Steven Petrivelli.
Sweetie
is designed to be a truly all ages comic, safe for young readers but including characters and story elements that will appeal to adults as well. The hero, Maggie, is a geeky girl who has no superpowers but trains herself to become a superhero so she can deal with the evils she encounters in high school and the world at large. The first issue is due out on February 27 with an MSRP of $3.99.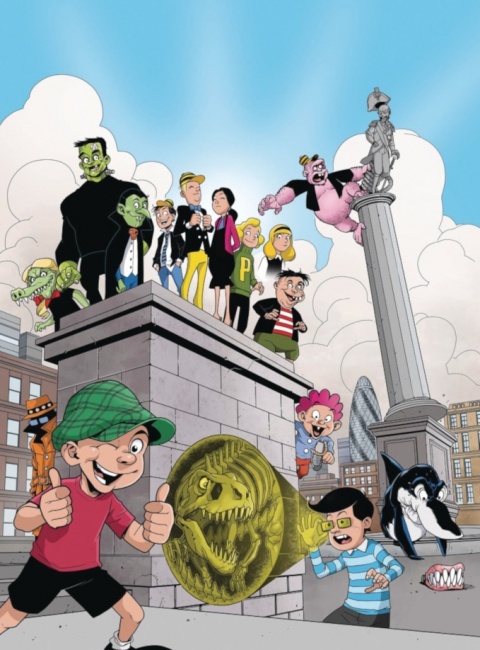 Rebellion:
Rebellion will unleash the quirky humor of classic British kids' comics on an unsuspecting North American audience on April 17 with the release of the one-shot
Cor! & Buster Special.
The 48-page comic will feature new stories starring characters who are new to American readers, including Sweeny Toddler (the world's worst baby) and Gums (the world's worst shark).
Cor!
and
Buster
were weekly newsstand comics that were hugely popular in the UK in the 1970s but are both now defunct. Rebellion recently acquired the entire archive of their publisher, IPC (see "
Rebellion Acquires Fleetway and IPC Youth Group Archives
"), and are bringing back some of the classic properties in different formats. (Fun fact: The title character of
Buster
was originally billed as the son of Andy Capp.)
Click Gallery below for full-size cover images!