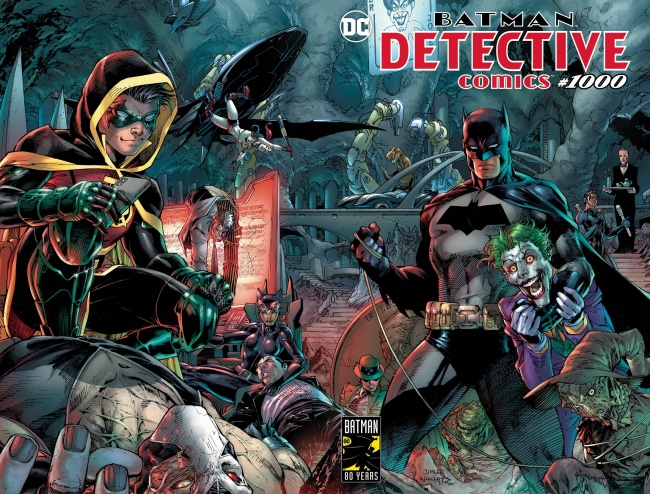 DC has unveiled more information about the all-star roster of contributors and story titles for the Caped Crusader's landmark thousandth issue.
Detective Comics #1000 marks 80 years of Batman on March 27 (see "Celebrate 80 Years of Batman With Two Anniversary Offerings"). The 96-page anniversary celebration has an MSRP of $9.99 and will feature the following stories:
"Manufacture for Use," by Kevin Smith and Jim Lee
The story cuts between Batman's fights against his greatest villains and his attempts to find the gun that killed his parents.
"The Legend of Knute Brody" by Paul Dini, Dustin Nguyen, Derek Fridolfs and John Kalisz
A mockumentary about the worst henchman in all of Gotham City.
"The Batman's Design" by Warren Ellis and Becky Cloonan
Batman turns the tables on a technologically enhanced pack of mercenaries.
"Return to Crime Alley" by Denny O'Neil and Steve Epting
Leslie Thompkins takes Batman to task for his addiction to violence in this direct sequel to O'Neil's classic "There Is No Hope in Crime Alley," from Detective Comics #457 (1976).
"Heretic" by Christopher Priest and Neal Adams
Batman helps a young man escape from Ra's al Ghul's League of Assassins, but he turns up dead in Gotham, so Batman heads to Tibet to give the League a message.
"I Know" by Brian Michael Bendis and Alex Maleev
In the future, the Penguin comes to an elderly, wheelchair-bound Batman to tell him how he learned Batman was Bruce Wayne and to explain why he never did anything with that information.
"The Last Crime in Gotham" by Geoff Johns and Kelley Jones
Another future-set tale, the family of Batman and Catwoman face off in a battle with the family of the Joker and Harley Quinn.
"The Precedent" by James Tynion IV and Alvaro Martinez
This tale centers on Bruce Wayne's decision to bring Dick Grayson into his dark world, ending with the classic candlelight oath.
"Batman's Greatest Case" by Tom King, Tony Daniel and Joëlle Jones
In parallel story threads, Bruce Wayne visits his parents' grave while Batman assembles his coalition of allies around him.
The issue also includes art from Mikel Janin and Amanda Conner and a two-page spread from Jason Fabok.
Jim Lee provides a wraparound main cover. DC is also offering several open-order variant covers from Steve Rude, Michael Cho, Jim Steranko, Bernie Wrightson, Frank Miller, Tim Sale, Jock, Greg Capullo, and Bruce Timm (see "'Detective Comics' Issue 1000 Brings Out the Stars").
The Bendis story is available online at the DC website. Click on the Gallery for a preview.