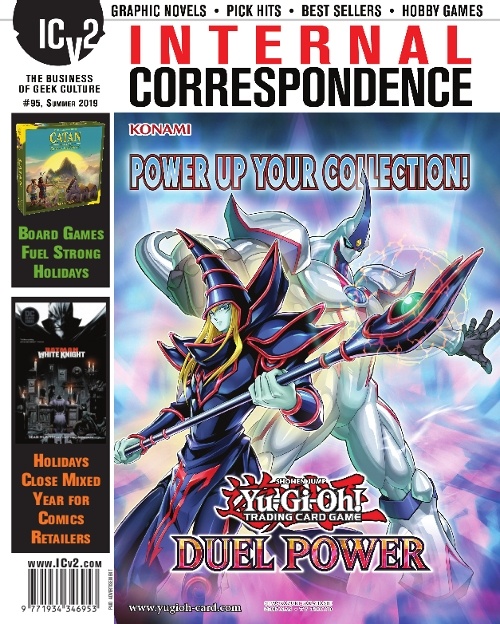 Despite some rough patches, sales in the hobby games channel grew for a tenth year in 2018, continuing a decade-long run of positive numbers, according to our initial survey of manufacturers, distributors, and retailers. We estimate based on those interviews that sales in the hobby channel were up about 10% in 2018, with our usual caveat that our initial estimates can end up with some adjustment after our full market size analysis is completed.
The positive sales results were paired with more unpredictability, which caused a variety of pressures at retail.
The year started down in some categories, with collectible games having especially tough comparisons to the year ago period. But that was washed out by a very strong holiday season, especially in board games, and easier comparisons against collectible game sales in the second half of 2017.
Collectible games started out 2018 weaker and turned around later in the year.
There was more choppiness in the board games category, with a very large number of games competing for the attention of the limited number of consumers open to buying the latest hotness rather than a game that had proved itself among players and in the market.
Card games, which had another good year in 2018, are another reflection of that search for low-risk, high return expenditures.
Roleplaying games had another good year, with streaming play driving
Dungeons & Dragons
growth and continued excitement well below the top few games.
Miniature games may have had the biggest growth on a percentage basis for the year, with Games Workshop, the largest producer in the category, on a huge tear.
With a ten-year positive trend line, despite challenges, it's tough to find a pessimist about the hobby games business, with hope for the future and confidence in the continuing growth of the consumer base. As a hobby distributor put it, "We're riding the wave as far as we can."
Here are links to ICv2's charts of the Top Hobby Games across five categories for Fall (September-December) 2018, which first appeared in
Internal Correspondence
#95:
Top Collectible Games--Fall 2018
Top 10 Hobby Channel Board Games--Fall 2018
Top 10 Hobby Channel Card and Dice Games--Fall 2018
Top 5 Non-Collectible Miniature Games--Fall 2018
Top 5 Roleplaying Games--Fall 2018
A full-length version of this article appears on our Pro site (see "
Pro: A Decade of Growth through 2018--Full-Length Version
.")
For info on how to get your copy of the
ICv2's Internal Correspondence
#95, with the full market reports and size estimates, bestseller lists, and reviews, see "
ICv2 Releases 'Internal Correspondence' #95
."