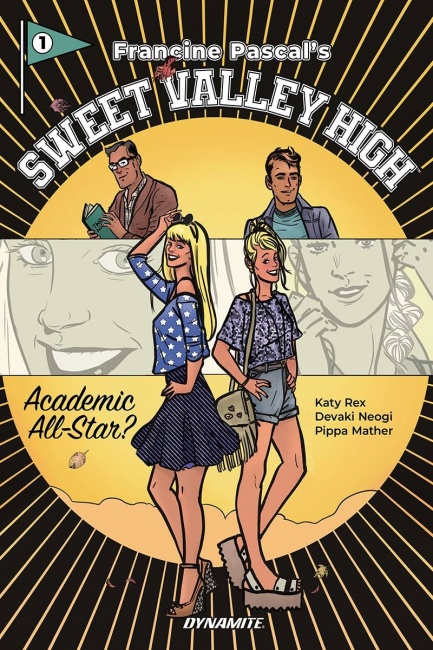 Dynamite Entertainment has set a release date for its
Sweet Valley High
original graphic novel, which was originally announced in 2016 (see "
'Sweet Valley High' Graduates to Graphic Novels
").
The book, titled simply Sweet Valley High Original Graphic Novel, will be released on June 26, 2019, with an MSRP of $14.99. The writer is Katy Rex, whose other work includes Charmed: Magic School and the magical-bad-girls series Jade Street Protection Services. Devaki Neogi (Curb Stomp, The Skeptics) did the line art, and Pippa Mather, who does colors for Dynamite and 2000AD, is the colorist.
The original series of Sweet Valley High young adult novels followed the adventures of twins Elizabeth and Jessica Wakefield and their ever-expanding cadre of friends, enemies, and frenemies in a fictional suburb of Los Angeles. A total of 181 Sweet Valley High books were published between 1983 and 2003, and there was also a TV show based on the books. In 2017, Vogue reported that a Sweet Valley High motion picture was in the works.
Scholastic's graphic novel adaptations of another 1980s franchise, The Baby Sitters Club, have become best-sellers, in part because the first few volumes were adapted by kids graphic novel superstar Raina Telgemeier. However, the series has continued to top the charts since Gan Golan took over (see "Top 10 Kids/YA Graphic Novel Franchises – Fall 2018").