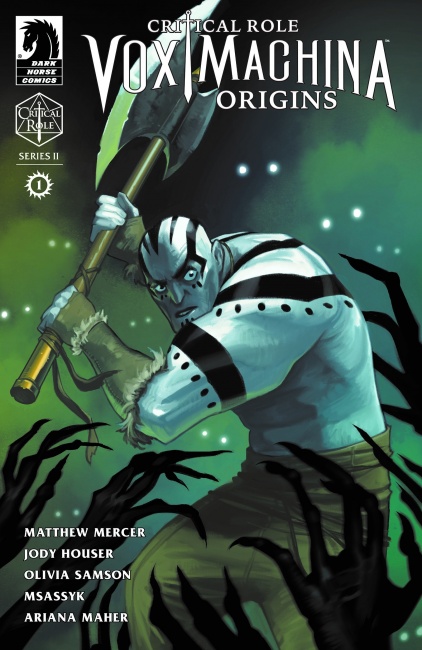 Dark Horse Comics and Critical Role, the weekly streaming show that features voice actors playing
D&D
, have announced a three-pronged publishing plan for 2019, which will begin on July 10 with the release of
Critical Role: Vox Machina Origins Series II #1
, the first in a six-issue series that continues to follow the origin stories of the Vox Machina characters, which were first unveiled in the previously published
Critical Role: Vox Machina Orgins Series I
, which will be collected and released on October 15 in trade paperback form with a cover by Stjepan Sejic. In addition to those two initiatives, Dark Horse will follow up with the Q4 release of
Critical Role: The Chronicles of Exandria—The Mighty Nein
, a lavish 200-page hardcover art book with a cover by Matteo Scalera and Moreno Dinisio that will collect art from the first few story arcs of the "Mighty Nein" campaign.
The new six-issue Critical Role comic series, Critical Role: Vox Machina Origins Series II, will be written by Jody Houser (Orphan Black, Stranger Things) with art by Olivia Samson, who also drew the first Critical Role series. Saga artist Fiona Staples is providing the cover for the first issue of Critical Role: Vox Machina Series II. The entire six-issue series will be collected into a trade paperback and released in the summer of 2020.
Dark Horse will be releasing a trade paperback collection of Critical Role: Vox Machina Origins Series I in October. The first Origin series, which was originally published by Dark Horse Digital, was written by Matthew Mercer and Matthew Colville. It will be published as a 168-page trade paperback with an MSRP of $19.99.
The 200-page hardcover Critical Role: The Chronicles of Exandria art book, which is due in late 2019, will feature text by cast members Liam O'Brien and Taliesin Jaffe, and will have a retail price of $39.99.
With its weekly Twitch streaming show Critical Role has provided a major boost to Dungeons & Dragons, a lift that should only increase thanks to a highly successful Kickstarter campaign to raise funds for an animated Critical Role special (see "Critical Role Raises Millions").
The Critical Role streaming show has already spawned sourcebooks on the show's world of Exandria from Green Ronin (see "New RPG Books Based on Geek & Sundry's Critical Role" and "Green Ronin 2017 Releases Announced"), as well as miniatures from Steamforged Games (see "Critical Role Miniatures Sets").