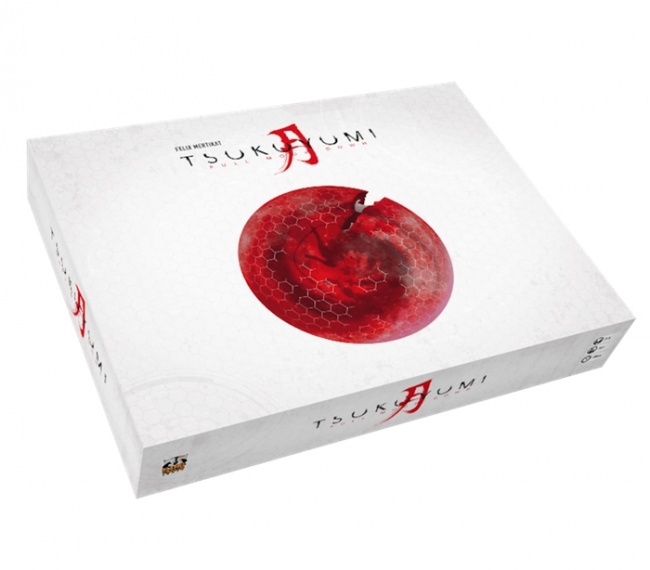 Grey Fox Games will release
Tsukuyumi: Full Moon Down
an asymmetrical strategy game where different factions battle for control of the world in early 2020.
The game is set in a world where the moon has very slowly returned to Earth, because it was actually a kami, Tsukuyumi, a white dragon who was exiled into the night sky eons ago. After the cataclysm of the moon crashing into the earth, the balance of power has changed. Humans are near extinction, and the kami has cause the animals to grow bigger and stronger. Now each faction is fighting for survival, and ultimately world domination.
Each faction has different values and abilities, but none guarantee victory. There are no dice to roll, so luck is absent. Players agree ahead of time which game mode to use and how many rounds will play (3 – 4 is normal). The player who collects the most victory points wins the game.
When asked how the Grey Fox Edition will differ from the original King Racoon Kickstarter, Grey Fox told ICv2 that the addition of miniatures was the biggest upgrade (previously players used cardboard standee figures). There are also some upgraded components, as well as some rearranging of which game factions come in which boxes. The rulebook will also be updated.

The base game includes an initiative board, a moon tile, a score point tile, 78 cards, 40 area tiles, 4 initiative tokens, 25 tokens, 10 passible/impassible tiles, 92 territory tokens, 4 faction homezones, and 4 faction sheets (Cyber Samurai, Boarlords, Nomads, Dark Seed), plus more than 150 miniatures, including units for each faction and Tsukuyumi's army.
The game is for 2 – 4 players, ages 14 and up, and plays in 90 – 120 minutes. MSRP is $99.00. Trade release is currently scheduled for Q1 2020.
The game is currently seeking funding on Kickstarter, and has raised more than $325,000 from more than 2,100 backers, well past its initial funding goal of $150,000, and will continue through Friday April 12. There is a Retailer pledge for 3 copies of the Kickstarter edition of the game plus stretch goals.
Grey Fox partnered with German publisher King Racoon last fall, with Tsukuyumi being the first game to announced as part of the collaboration (see "Grey Fox and King Raccoon Join Forces").