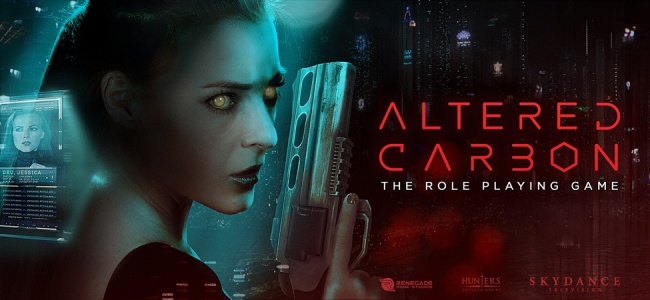 The Netflix science fiction series
Altered Carbon
will be adapted into a tabletop role playing game thanks to a licensing deal between Skydance Media and Hunters Entertainment. The new game will launch in 2020.
Based on the novels of Richard K. Morgan, Altered Carbon imagines a future in which the human mind can be digitized and transferred between bodies. Hunters Entertainment will produce a series of role playing game books based on the Netflix series, including material that ties in with the up-coming second season.
The game will be edited by Joe LeFavi of Genuine Entertainment (whose credits include work on the Dune role playing game from Gale Force Nine—see "Exclusive: Frank Herbert's 'Dune' Comes to Tabletop"). Other details about the game system have not been released.
Hunters plans to crowdfund the initial production run later this year, with release in both print and digital format next year. Worldwide distribution of the game will be handled by Renegade Game Studios.
Last year, Netflix announced an anime version of the series was also in the works (see "Disney's OTT Service Name, 'Rogue One' Series, Satanic Temple Sues Netflix, Netflix Adds New Anime, Grant Morrison Adapting 'The Invisibles' for TV").