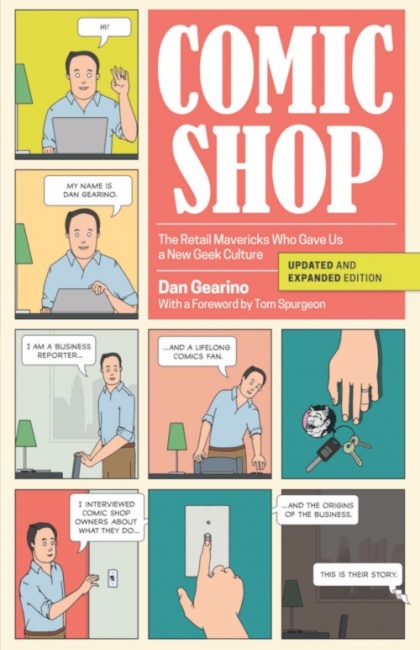 Swallow Press, the trade imprint of Ohio University Press, will release a new edition of
Comic Shop: The Retail Mavericks Who Gave Us a New Geek Culture
, by Dan Gearino, in May. The new edition, the first in paperback, builds on the original hardcover edition released in 2017 (see "'
Comic Shop' Fully Stocked with Info, Anecdotes on the History of the Direct Market
"), with 24 additional pages.
Gearino penned an epilogue for the new edition to cover the events of 2017 and 2018, a tough period for comic stores even as important new titles hit the market. He also expanded and updated the content on individual stores, pulling the narrative on the one store of the 40 in the first edition that had closed (Meltdown, see "
Meltdown Comics Store Closing
"), adding profiles of four stores, including Vault of Midnight and Books With Pictures, and updating the profiles of two stores, The Beguiling and Heroes Aren't Hard, that weathered relocations.
Gearino also made additions to the chapter "The Mailman," with new background on the Heroes World deal and the story of Brian Hibbs' class-action lawsuit against Marvel.
The new, longer paperback edition will carry a $17.95 cover price.