Privateer Press is adding a new faction to its
Monsterpocalypse
giant-monster fighting game with the release of five Empire of the Apes model kits this summer.
In June, the core of the new faction will be released, including one giant monster, two unit kits, and one building:
King Kondo is an enormous primate who can punch through buildings and use trains as javelins. Though he despises humanity, he hates the Destroyers more and will join any Protectors force. Combination metal and resin kit. MSRP is $28.99.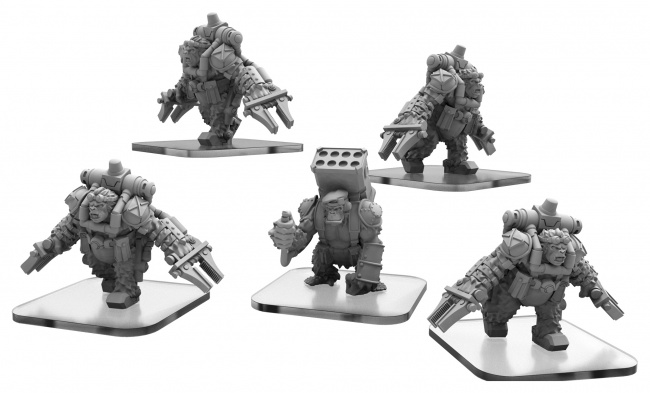 The
Assault Apes & Rocket Ape
kit includes four assault apes wearing cargo-lifter exoskeletons and one rocket ape armed with a multi-rocket launcher. Metal. MSRP is $34.99.
The second unit kit is Ape Gunners & Ape Infiltrator, featuring four ape gunners equipped with stolen human weaponry and one ape infiltrator, trained in using high-tech electronic hardware to locate and target hidden enemies. Metal. MSRP is $34.99.
Rounding out the first wave is the Jungle Fortress, a resin kit of an Empire of the Apes fortified outpost that allows its controller to deploy Empire of the Apes units at a discount. MSRP is $18.99.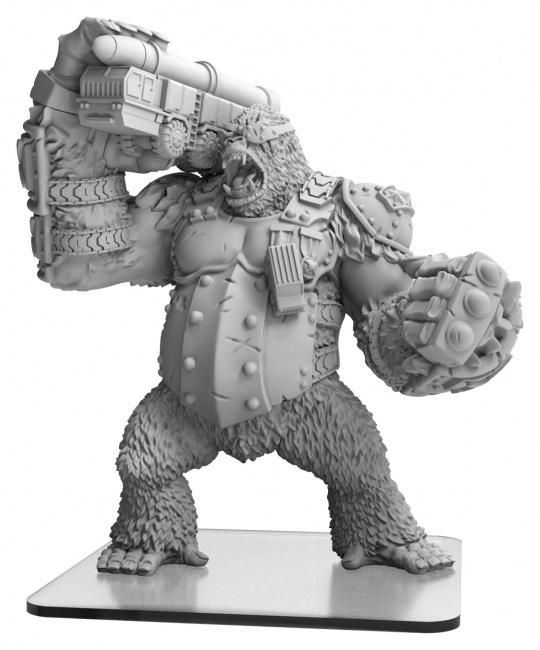 In July, the second Empire of the Apes giant monster will arrive,
General Hondo
. The mastermind behind the empire's use of human technology, the general delights in the huge explosions caused by his favorite missile-launching weapons. Resin kit. MSRP is $28.99.
Click on the gallery below for images of the new models.
This month, the company plans to release new buildings for the game (see "'Monsterpocalypse' Targets Landmark Buildings").