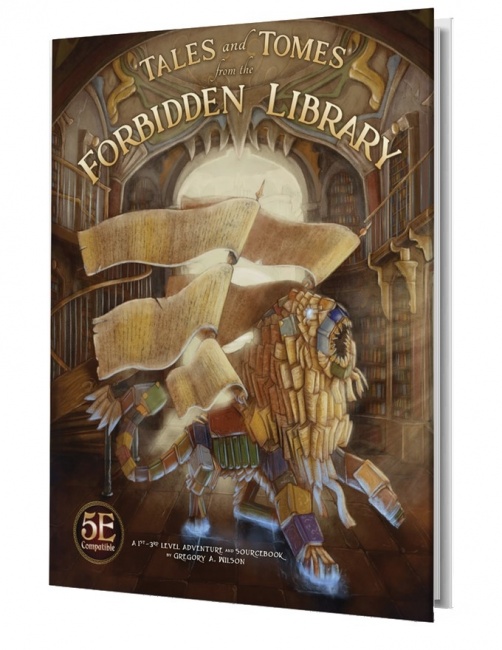 Alligator Alley Entertainment will release
Tales and Tomes from the Forbidden Library
, a combination sourcebook and adventure module that features input from some of the biggest names in tabletop role playing games. The book is designed for use with the fifth edition of
Dungeons & Dragons
and will release in October.
The adventure element of Forbidden Library lures players into the long-forbidden Eastern Wing of the Hearthglow Academy library. Over the course of a three-adventure campaign, designed for low-level characters, the adventurers must uncover and survive the secrets that forced the closure of the wing. The adventure was written by Gregory A. Wilson, professor of English at St. John's University and speculative fiction author.
The sourcebook side of the book was inspired by a presentation at the Gen Con Writers Symposium, and Alligator Alley has recruited a number of well-known gaming and speculative fiction writers to fill the library with books and lore designed to serve as inspiration for further adventures. The list of contributing authors includes Ed Greenwood, Matt Forbeck, Aaron Rosenberg, Michael R. Underwood, Cat Rambo, Carlos Hernandez, Kenneth Hite, Will Hindmarch, Darcy Ross, Hal Mangold, James Introcaso, Greg Marks, Shawn Merwin, Henry Lopez, T. S. Luikart, Will Doyle, Paul Alexander Butler, George Holland, Charles Ryan, Liz Chaipraditkul, Robert Adducchi, Ashley Warren, John Wick, Alex Kammer, Ginny Loveday, Cam Banks, Mariam Ahmad, Alastor Guzman, Alan Patrick, Amr El-Azizi, M. T. Black, Rob Donoghue, and Will Sobel.
The book itself will be a hardcover volume with full-color throughout. The final page count and MSRP have not been set, but the publisher expects it to fall in the $30.00 to $35.00 range.
The production run is being funded through a Kickstarter campaign that has attracted $14,883 in pledged support from 529 backers as of this writing (an average of $28.13 per backer). The campaign includes a backer option for brick-and-mortar retail stores, who will receive copies of the book 30 days before its general release into the trade. Alligator Alley is also inviting participating retailers to opt-in to a program for local campaign backers to pick up copies of the game in-store.
Last year, Alligator Alley published the science fiction role playing game Esper Genesis (see "'Esper Genesis' Sci-Fi RPG").