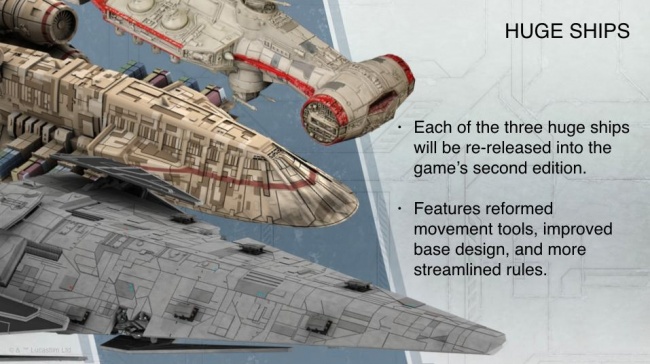 Fantasy Flight Games shared two bits of information for its
Star Wars X -Wing
and
Star Wars Armada
games at the Star Wars Celebration panel that have not been shared outside the company's Twitter feed at the event.
For Star Wars X-Wing, FFG shared that three large ships will be re-released as part of the game's second edition. Each of the ships (Imperial Raider, Tantive IV, and CR-90 Corvette) will have reformed movement tools, streamlined rules, and improved base designs. Release dates were not announced. More immediately, six expansions will join the game in Q3 (see "'Wave V' for 'Star Wars X-Wing 2E'").
For
Star Wars Armada
a
Tweet
confirmed that
Star Wars: The Clone Wars
will be coming to
Armada
in 2020. A new
Campaign Expansion: Rebellion in the Rim
arrives in Q3 (see "
'Star Wars: Armada - Rebellion in the Rim'
").