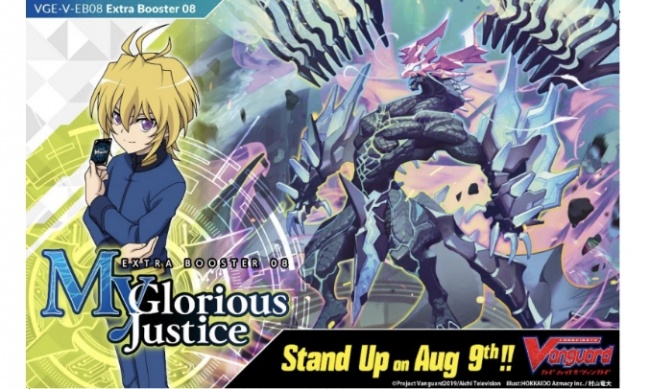 Bushiroad will release
Cardfight!! Vanguard Extra Booster 8 - My Glorious Justice
on August 9.
My Glorious Justice features cards from Aqua Force, Dimension Police and Granblue clans. Cards included in this set will help strengthen the previously released Leon Soryu Trial Deck and Champions of the Asia Circuit Extra Booster. Eight reissue trigger units from the three featured clans are included as well.
The Extra Booster set will include 63 types of cards [55 new cards, 8 reissues], including: VR: 3/RRR: 6/RR:9/R:15/C:30, plus Various Parallels. Each pack contains 7 random cards, with 2 cards definitely being a R or above. Each display will contain 12 packs and every display will include a VR or SVR card. Each box will also include 3 Gift Markers, with a random one-out-of-three unit illustration version. As a pre-order bonus, each carton will include 2 bonus playmats featuring the Aqua Force clan. Each carton includes 24 display boxes.
Retailers can hold prerelease events with the CardFight!! Vanguard My Glorious Justice Sneak Preview Kit. Each Kit includes 39 packs, 2 premium rubber playmats featuring Dimension Police, and 8+1 exclusive PR cards. The Kit supports up to 8 players, each getting 4 packs each, with the remaining 7 packs serving as a prize. Sneak Preview weekend will be August 2-4, 2019.
My Glorious Justice will follow the July release of The Heroic Evolution (see "'The Heroic Evolution' Powers Up 'CardFight!! Vanguard'")