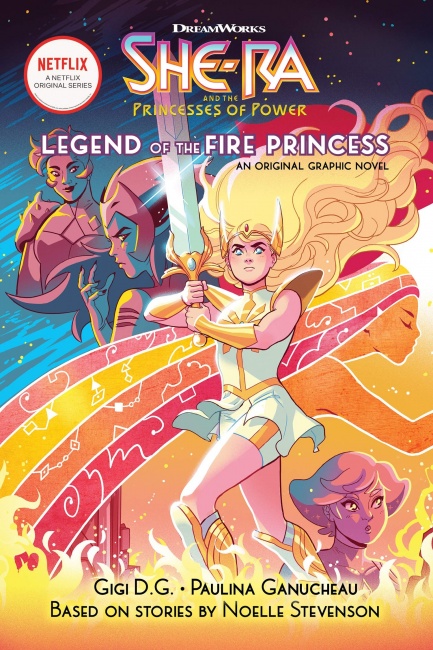 Scholastic Inc. will release an original graphic novel based on Noelle Stevenson's
She-Ra and the Princesses of Power
Netflix animated series.
The Legend of the Fire Princess
will release on February 4, 2020.
Stevenson announced the OGN on Twitter, and said it will feature "NEW content including a BIG REVEAL!" Stevenson is showrunner and creator of She-Ra and the Princesses of Power, which just launched its second season (see "Katy Keene and Nancy Drew on the CW, Sandra Bullock 'Reborn,' 'She-Ra' Renewed"). The Legend of the Fire Princess (She-Ra Graphic Novel #1) is written by Gigi D.G. (Cucumber Quest) and drawn by Paulina Ganucheau (Lemon Bird, Zodiac Starforce).
She-Ra recently learned that she can heal corrupted runestones, which is useful, since that's where Princesses Frosta, Mermista, and Perfuma draw their power. Glimmer shares the story of a powerful runestone that once belonged to a fire princess, but she was corrupted by her thirst for power and her kingdom fell to ruin. So She-Ra and friends go in search of the runestone, as it could be a potent weapon against the Horde. Of course, the Horde plans on claiming the same power for themselves.
The 128-page graphic novel has an MSRP of $12.99.