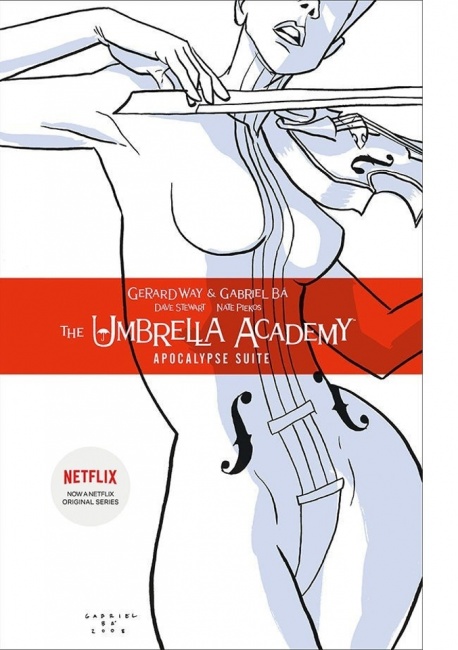 Dark Horse Entertainment has closed a first look deal with Netflix which gives the over the top (OTT) platform first look at its IP catalog for both film and TV.
Dark Horse and Netflix previously collaborated on the action-comedy superhero series The Umbrella Academy, which was renewed for a second season in April (see "Creepy 'Game of Thrones' Poster; 'Walking Dead' Ratings Plummet, but Still Strong; 'Umbrella Academy' Renewed;"). The popular series catapulted the first graphic novel collection to the top of the book channel in March (see "March 2019 NPD BookScan - Top 20 Adult Graphic Novels"). Netflix also recently released a film version of Polar, based on the graphic novel Victor Santos (see "Luke Wilson in 'Stargirl,' More 'Star Trek,' 'GoT' Prequel Director and Cast, 'Polar' Trailer").
Dark Horse's Mike Richardson, Keith Goldberg, and Paul Schwake with produce.
"Following the success of The Umbrella Academy, we're excited to extend our relationship with Dark Horse Comics," said Cindy Holland, Vice President, Original Content for Netflix. "The Netflix teams are already working in deep collaboration with Dark Horse to identify projects beyond the world of traditional superheroes -- branching into horror, fantasy and family entertainment -- that we think our members will love."
Dark Horse signed a similar deal with Universal Cable Productions back in 2015 (see "Dark Horse Signs 'First Look' Deal with Universal Cable Productions").