The latest geek TV news includes casting, trailers, and lots of Star Trek.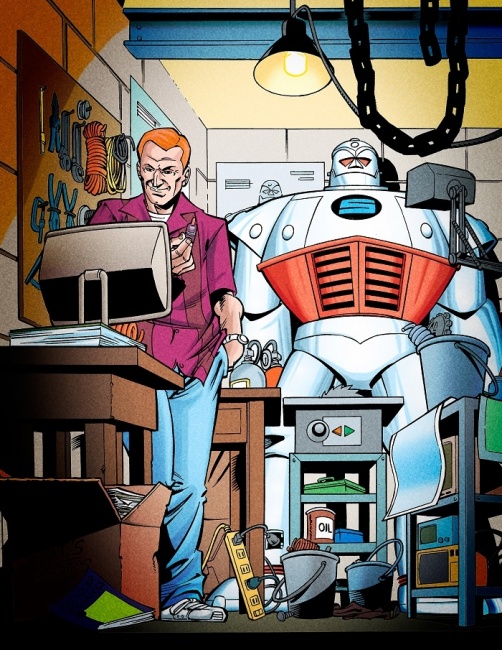 DC Universe's
Stargirl
has added Luke Wilson (
Idiocracy
,
Old School
,
The Royal Tenenbaums
) to the cast. Wilson will play Pat Dugan, a former sidekick and mechanic who pilots Stripe, a huge robot of his own invention, to support his stepdaughter, Stargirl. Wilson joins star Brec Bassinger, Joel McHale, Henry Thomas, Lou Ferrigno Jr., and Brian Stapf (see "
'Locke & Key' and 'Stargirl' and 'Mandalorian' Casting
"). The show will air on the over-the-top service sometime in 2019 (see "
DC Universe Drops Teaser Trailer
").
CBS All Access is loading up on Star Trek, with a minimum of two animated series, more shortform Star Trek: Short Treks, and other series on deck according to an interview with franchise head Alex Kurtzman with The Hollywood Reporter. Two new Short Treks, both animated, will air this spring after the wrap of Star Trek: Discovery season 2. One animated series, Star Trek: Lower Decks, has already been announced (see "Animated 'Star Trek,' 'Bee And Puppycat' Return, Del Toro's 'Pinocchio,' 'Luke Cage' Not So Unbreakable, 'Pennyworth' Cast Grows"). Lower Decks, which has a two season order, is a comedic series centered on the support crew of one of Starfleet's least important ships. The second planned animated series will likely be kid-centric, with Kurtzman expressing a strong desire to engage younger audiences with the franchise. Kurtzman is also overseeing a Discovery spinoff starring Michelle Yeoh and Starfleet Academy, a younger-skewing series from Josh Schwartz and Stephanie Savage (The O.C.). A series centered on Jean-Luc Picard is also in development (see "Patrick Stewart Returns to 'Star Trek'").
The Game of Thrones prequel is starting to take shape with the announcement of a director and cast for the series, which is set 1,000 years before the events of A Song of Ice and Fire (see "HBO Orders Pilot for First 'Game Of Thrones' Spinoff"). S.J. Clarkson (Jessica Jones, Collateral) is directing the pilot episode. Naomi Watts (Twin Peaks) will lead a cast that includes Naomi Ackie (Star Wars: Episode IX), Denise Gough (Colette), Jamie Campbell Bower (The Twilight Saga, Camelot), Sheila Atim (Harlots), Ivanno Jeremiah (Humans), Georgie Henley (The Chronicles of Narnia), Alex Sharp (How to Talk to Girls at Parties), Toby Regbo (Fantastic Beasts: The Crimes of Grindelwald, The Last Kingdom), and Josh Whitehouse (Poldark) (via Entertainment Weekly). Nothing has been revealed about the characters they will play in the series, which GoT creator George R.R. Martin would like to call The Long Night. The series will present a Westeros very different from that of the original series, since most of the accouterment of the latter didn't exist 1,000 years in the past. The Long Night goes into production later this year and will air in 2020 at the earliest. In the meantime, GoT fans will have to settle for the last season of the original series, which will debut in April (see "New 'Game of Thrones' S8 Teaser").
The Black Kaiser, the world's top assassin, is having a rough retirement in the trailer for Netflix's adaptation of Polar. Mads Mikkelsen (Doctor Strange, Rogue One: A Star Wars Story) plays the titular assassin in the film, which debuts on January 25 and also stars Vanessa Hudgens. It is based on the Dark Horse release Polar: Came from the Cold by Victor Santos (see "'Deathstroke,' 'Polar,' 'Godzilla: Monster Planet,' Live-Action 'Dora,' 'Hellboy'").
While we're on trailers, HBO offered up a few seconds of footage from the final season of Game of Thrones and Watchmen in a first look trailer for the network's 2019 series. There are a few tantalizing looks at yellow-masked police officers (see "Two New Short 'Watchmen' Videos"), Jeremy Irons (see "Watchmen Casting in Latest Geek TV Round-Up"), and dragons.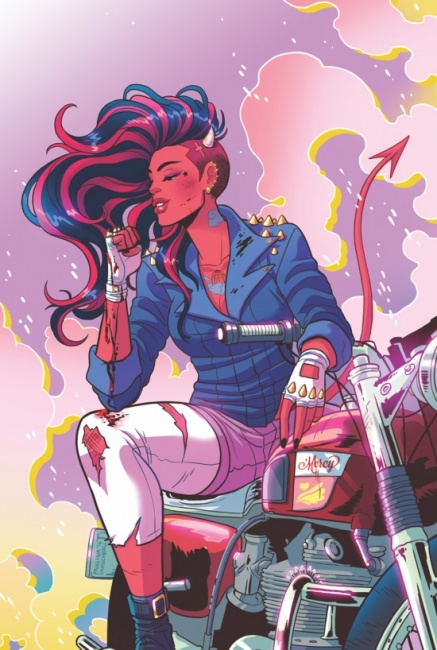 Josh Blaylock and Matt Merhoff's
Mercy Sparx
is in development for film, television, and digital projects. Assemble Media (
Brawl In Cell Block 99
) is developing the projects centered on the demon kicked out of Hell, banished to Earth, and enlisted by Heaven to hunt down rogue angels.
Mercy Sparz
was released by Devil's Due Publishing starting in 2008 and was among the properties acquired by Arcana Studio, Inc. in 2010 (see "
Arcana Acquires Devil's Due Properties
").