NBM announced seven new titles scheduled for September 2019 through February 2020, and it's an eclectic list that includes biographies of musician Bob Marley and sculptor Auguste Rodin, the story of a child soldier, a road trip, a book of puzzle mysteries for adults, a complete set of Zombillenium, and a gorgeous book about a supernatural seafarer.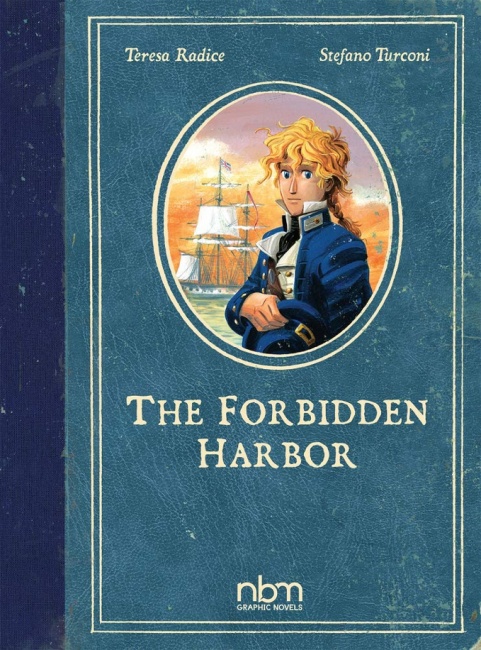 The Forbidden Harbor
by Teresa Radice and Stefano Turconi.
It's 1807, and the crew of The Explorer, a ship in Her Majesty's Navy, has just rescued a young boy from a shipwreck. The boy has no memory of anything but his name, Abel, but he pitches in and turns out to be quite handy aboard ship. There's trouble afoot, though, as the ship's captain has disappeared, apparently taking the ship's treasure with him. When Abel returns to England, he meets the captain's daughters, who maintain their father's innocence even while they are shunned by the other townspeople, and a friendly madam who leads him toward his lost identity.
Forbidden Harbor
is filled with action, intrigue, and fascinating characters and is beautifully drawn in a deft penciled style that breathes life into every panel. Destined to become a classic, this 320-page hardcover is due out in September 2019 with an MSRP of $29.99.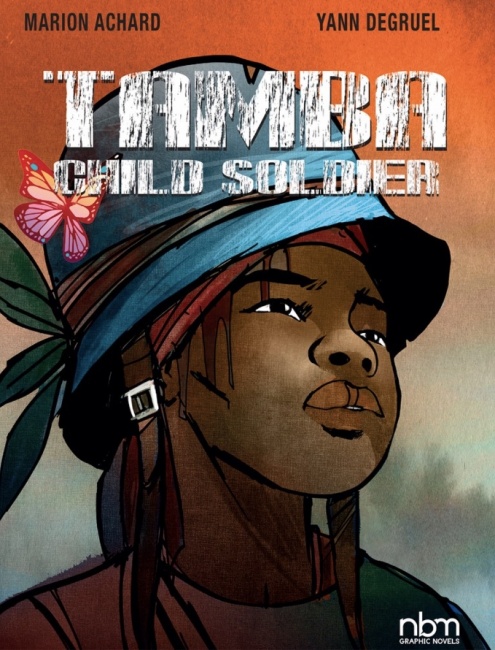 Tamba, Child Soldier
by Marion Achard and Yan Degruel.
In a story that has become all too familiar in recent years, eight-year-old Tamba Cisso is kidnapped and forced to become a soldier in a civil war in an unnamed African country. The story is told in flashbacks, as the now 16-year-old Tamba testifies before a committee on reconciliation, telling how he was kidnapped, drugged, and exposed to extreme violence by rebels who used these methods to turn children into killers. The story is based on the experiences of child soldiers in Sierra Leone, Guinea, and Congo. The 112-page full-color hardcover is scheduled for an October release and has an MSRP of $24.99.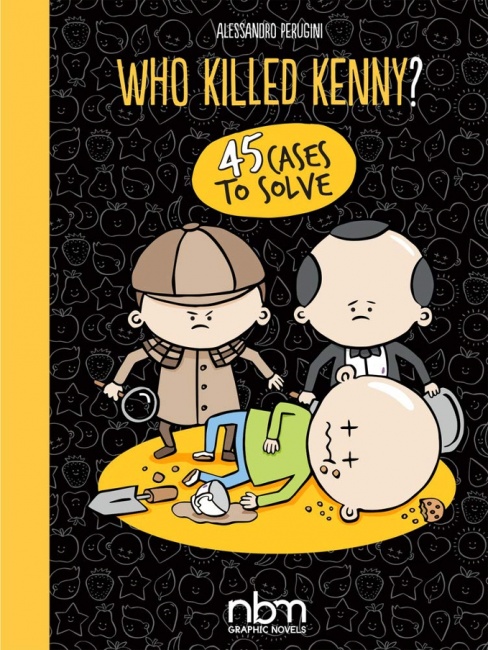 Who Killed Kenny?
by Alessandro "Pera" Perugini.
Two-Minute Mysteries meets South Park in this goofy, very adult book of murder mystery puzzles. In each of the 45 cases, Kenny is murdered in a different way and the crime scene is laid out on a single page. Readers are invited to play detective, and the solution is revealed on the next page. The full-color, 112-page hardcover is printed in a compact 4" x 6" format and will be available in November 2019 with an MSRP of $9.99.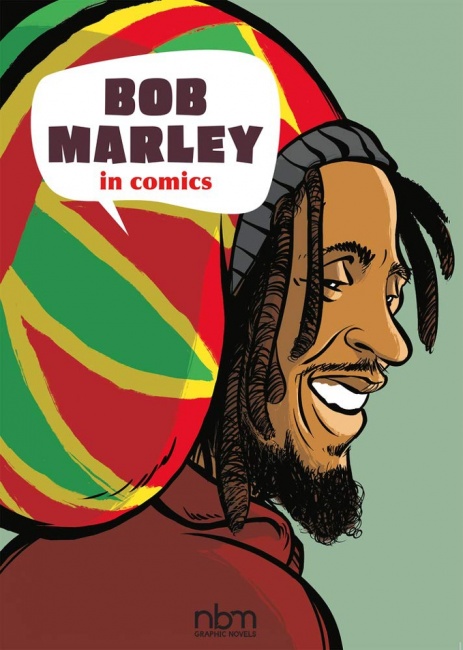 Bob Marley in Comics
by Gaet's and Sophie Blitman.
This companion volume to NBM's comics biographies of The Beatles and The Rolling Stones tells the story of reggae superstar Bob Marley from his humble beginnings in Kingston, Jamaica, to the heights of his career with his band The Wailers. There's more to Marley than music, though: His music, suffused with his Rastafarianism, looked toward a better world than the one he grew up in. The 176-page full-color hardcover will be out in December 2019 with an MSRP of $27.99.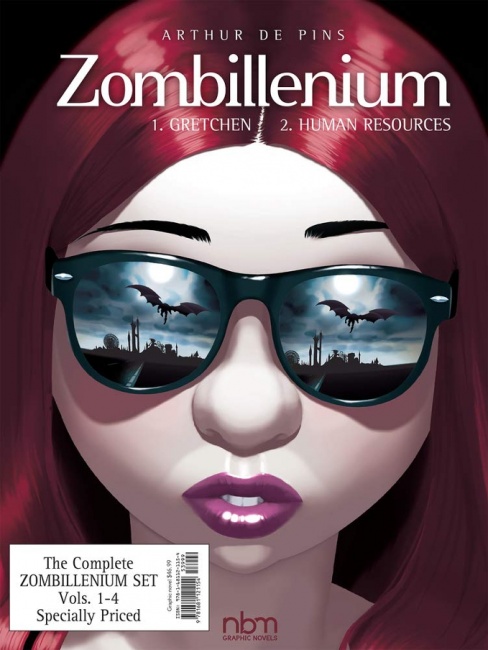 Zombillenium Set
, volumes 1-4, by Arthur de Pins.
This banded set comprises an omnibus of the first two volumes, as well as volumes 3 and 4, making it possible to binge-read all of de Pins's comedy about a horror-themed amusement park staffed by real monsters, vampires, and zombies. All the volumes are full-color hardcovers, and the set, due out in January 2020, is specially priced at $46.99; the individual volumes if bought separately, would cost $52.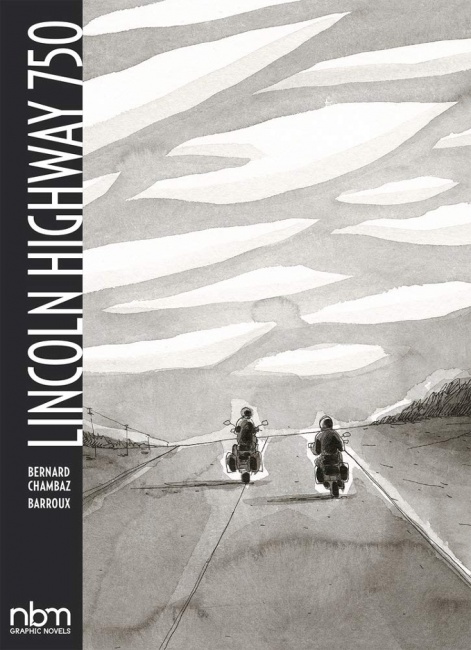 Lincoln Highway 750
by Bernard Chambaz and Barroux.
Our hero, who is about to run the New York Marathon, gets a Dear John text from his girlfriend and decides to chuck it all. He has a couple of drinks, then impulsively buys an old motorbike and sets off on a road trip across the country, from New York to San Francisco. This 88-page black-and-white trade paperback will be published in January 2020 with an MSRP of $12.99.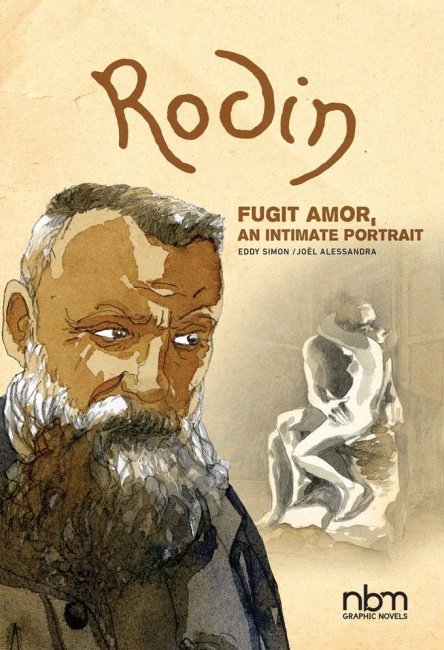 Rodin: Fugit Amor, An Intimate Portrait
by Eddy Simon and Joel Alessandra.
The creators of this graphic biography collaborated with the Rodin Museum to create an authentic story of the sculptor Auguste Rodin, as seen through the eyes of the three women in his life: His lifelong companion and two others who served as muses, one of whom was the sculptor Camille Claudel. The 112-page full-color hardcover is scheduled for a February 2020 release with an MSRP of $19.99.
Click Gallery below for covers!