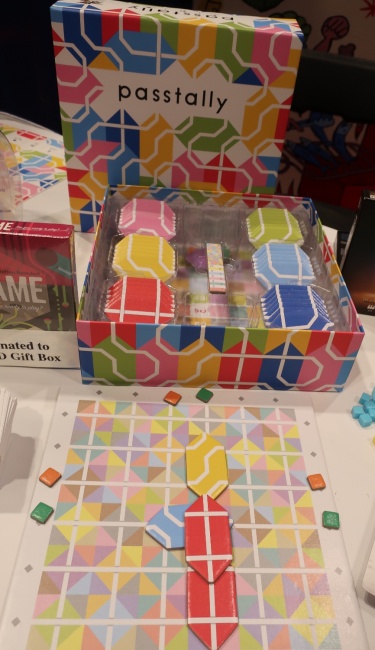 Pandasaurus has made a deal with Japanese publisher analog lunchbox to produce an English language version of the path-building game
passtally
, which will release in July.
In passtally, players score points by creating paths across the game board that connect colored tokens around the outside edge. Paths can be changed by moving the tokens or by playing tiles, which show a variety of path combinations. Points are awarded based on the "tally" of the number of tiles the path "passes" over, hence the name of the game. Even tiles that are covered by tiles placed later are counted, allowing players to stack tiles to increase their score.
passtally is intended for 2 or 3 players, ages 8 and up, and takes a little over half an hour to play. MSRP is $29.95.
Pandasaurus will also release a pair of Machi Koro titles this summer (see "Pandasaurus Celebrates 'Machi Koro' 5th Anniversary with New Expansions Package, with Extras" and "Details, Release Date on 'Machi Koro Legacy'").