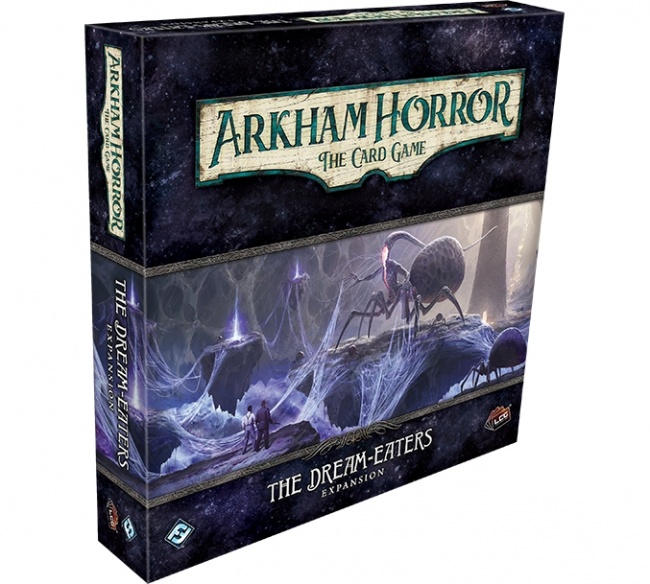 Fantasy Flight Games will release
The Dream-Eaters Expansion
for its
Arkham Horror: The Card Game
in Q3.
The mysterious Dreamlands will be the focus for the fifth story cycle of
Arkham Horror: The Card Game
, which begins with
The Dream-Eaters Expansion
. Intended for one to four players,
The Dream-Eaters
features a dual plotline: some investigators must depart the waking world for this nightmarish realm, while their companions remain behind to investigate in the "real world." The action is kicked off by the publication of a book by Virgil Gray in which he claims to travel through his dreams. Gray's experiences, though, are shared by other Arkham residents, leading to the investigation.
The expansion set offers two scenarios, one for the adventurers who enter the Dreamlands called "Beyond the Gates of Sleep," in which the characters follow the path of Virgil Gray in their own dreams, and one for those who do not. The scenarios are depicted through the expansion's 95 scenario cards and 56 player cards.
Click Gallery below for images from the expansion!
The Dream-Eaters Expansion
requires a copy of the
Arkham Horror: The Card Game
core set to play. MSRP is $29.95.
Arkham Horror: The Card Game
has been a solid hit for Fantasy Flight, ranking on ICv2's top 10 list of hobby channel card games as recently as last fall (see "
Top 10 Hobby Channel Card/Dice Games--Fall 2018
"). The company has been extending the replayability of the game's earlier scenarios by releasing "upgrade expansions," such as last year's revisiting of
The Dunwich Legacy
(see "
'Return to the Dunwich Legacy'
").