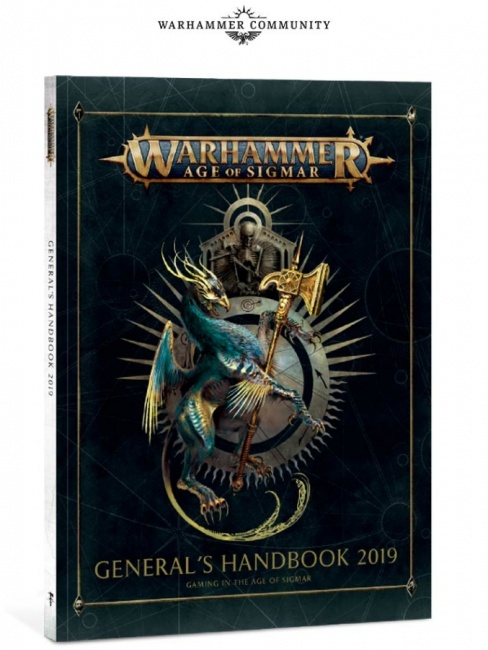 Games Workshop has announced the
Warhammer: Age of Sigmar General's Handbook 2019.
The 2019 edition of the
General's Handbook
offers new content for customizing play throughout the year. Narrative Play offers new Street of Death rules, Arcane Objectives, rules for Raids and Ambushes, and new mercenary companies. Open Play is updated with new battle plans and army generators. With Matched Play, players get new battleplans, new Triumphs, command abilities and terrain features. The
General's Handbook 2019
contains allegiance abilities and expanded rules for several factions.
Games Workshop will also release a Warlord Edition of the General's Handbook 2019, which will only be available via the GW website. The Warlord Edition includes a double-sided card token with objective markers, star strike markers, 9" rulers, and 24 terrain markers. The limited edition includes 30 battleplan cards, including 20 options for Pitched Battles, Meeting Engagements and narrative play. Finally, it includes 135 small-format cards that has easy references of the rules, from mercenary companies to Hidden Agendas.

Both editions of the General's Handbook 2019 will be available for preorder beginning next week. Release date and MSRP have not yet been announced.

The General's Handbook 2019 is the update to the 2018 edition released with the update to Warhammer: Age of Sigmar last year (see "GW Jump-Stars New 'Warhammer: Age of Sigmaer' Edition").

Click the Gallery below to see the Warlord Edition!