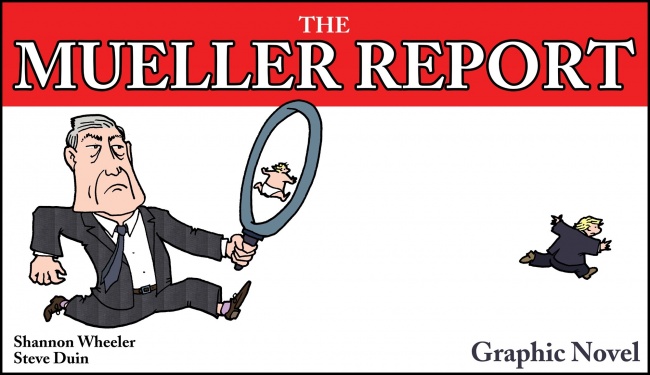 IDW Publications has announced the April 2020 publication of a graphic novel adaptation of
The Mueller Report
by
New Yorker
cartoonist Shannon Wheeler and journalist Steve Duin (
The Oregonian
). While next April seems far away, given the White House's attempt to prevent the Mueller witnesses from testifying before Congress, it is quite possible that Wheeler and Duin's graphic novel could be the first visual representation of
The Mueller Report
that the American public will see.
Bringing the legalistic, 400+ page Mueller Report to life and condensing it into a 208-page graphic novel involved Wheeler and Duin channeling classic detective yarns to tell the convoluted story as a complicated mystery. Part I of the Mueller Report examines 140 contacts between the Trump campaign and the Russians, while Part II presents 10 well-documented arguments that the President obstructed justice. The Mueller Report Graphic Novel presents the evidence from both Parts with a cold satirical edge.
The 208-page, black-and-white Mueller Report Graphic Novel will be published as a 6" x 9" softcover with a cover price of $15.99.