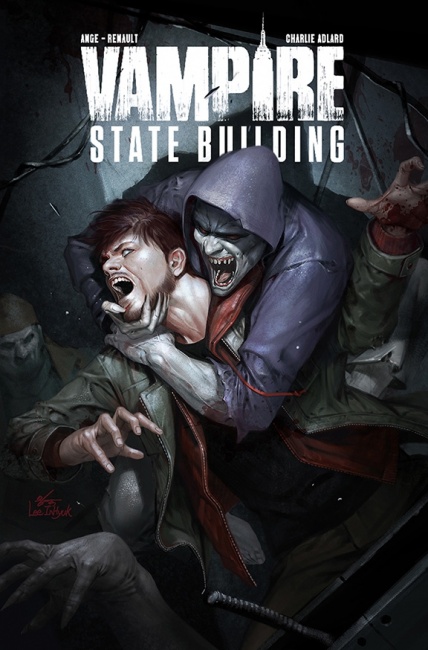 Ablaze Publishing, a new company co-founded by Rich Young (who spent time at a lot of publishers beginning with "D," including Dynamite, Dark Horse, Dreamwave and Dabel Bros.), will launch with an American edition of the bande dessinee
Vampire State Building
, written by Ange and Patrick Renault with art by Charlie Adlard, published in France by Soleil. Adlard, of course, is best known for his work on
The Walking Dead
over the past 15 years.
Ablaze is planning a diverse publishing line, to include other titles from Europe, manga and manhwa titles, original material, crowdfunded titles, reprints, and art books.
Vampire State Building
tells the story of a young solder going to meet his friends at the top of the Empire State Building as a legion of vampires attacks the building and massacres its occupants. The first issue will street September 18. It's 32 pages, so it appears that each French album will be split into two standard-length comic issues.
Covers include the "A" cover by Charlie Adlard, the "B" cover by InHyuk Lee, the "C" cover in black & white and red by Charlie Adlard, and the "D"
Infinity Gauntlet
Homage Cover by Guilherme Balbi.
Click Gallery below for four covers and eight pages from Vampire State Building #1!