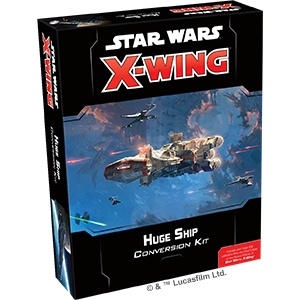 A larger class of ship is entering Fantasy Flight Games'
Star Wars X-Wing 2E
miniatures game with the release of the
Huge Ship Conversion Kit
, the
Tantive IV Expansion Pack
, and the
C-ROC Cruiser Expansion Pack
, all releasing in the fourth quarter.
These new expansion sets will bring the largest ships to date into the current edition of the X-Wing game. The Huge Ship Conversion Kit includes all the materials players need to use all of the large ships from the first edition, including the CR-90 Corellian corvette, C-ROC cruiser, Gozanti-class cruiser, GR-75 medium transport, and Raider-class corvette, into the second edition.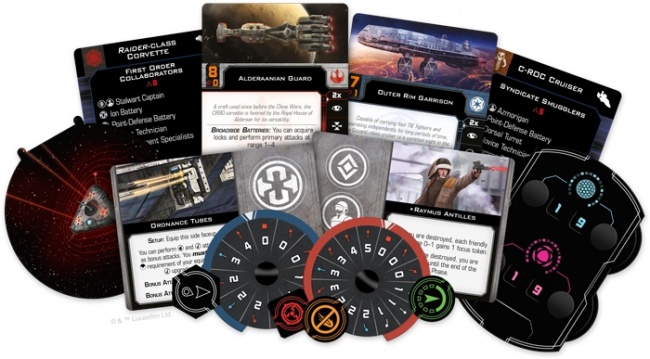 Cards in the kit will allow each model to be used with two different factions, including factions that did not have access to those ships in the first edition. 82 upgrade cards allow players to customize their ships to match their strategy. The "huge ship maneuver tool," "huge ship range ruler," "huge ship resource trackers," and "huge ship damage deck" round out the expansion. MSRP is $29.95
Two new large ships will also release in Q4: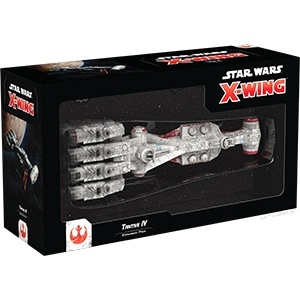 The
Tantive IV Expansion Pack
features this iconic ship, known for its speed and sophisticated electronic warfare capabilities. In addition to the ship model, useable with the Rebel Alliance or Galactic Republic, the set has the maneuver dials, ship cards, and 29 upgrade cards for the ship plus the huge ship maneuver tool and damage deck. MSRP is $99.95.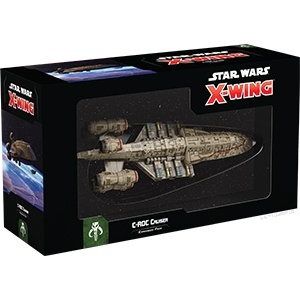 Popular with criminal operations and syndicates of the Outer Rim, the
C-ROC Cruiser
is a highly maneuverable ship that can be equipped to carry heavy cargos or a powerful array of weapons. This ship model can be used with Scum and Villainy or Separatist Alliance fleets, and comes with maneuver dials, ship cards, 35 upgrade cards, huge ship maneuver tool, resource tracker, and damage deck. MSRP is $99.95.
Click on Gallery below to see the components from the new expansions.
The new ships were announced at Fantasy Flight's Star Wars Celebration panel (see "Fantasy Flight Teasers from Star Wars Celebration Panel"). They will follow the fifth wave of Star Wars X-Wing 2E models releasing in Q3 (see "'Wave V' for 'Star Wars X-Wing 2E'").