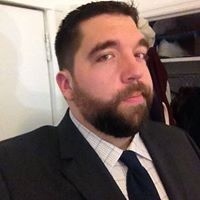 Artists, Writers, and Artisans, the new comics publisher led by former Marvel Publisher Bill Jemas and former Marvel Editor-in-Chief Axel Alonso (and co-founded by former News Corp. CEO Jon Miller), has named Gabe Yocum as Director of Sales. Yocum went from Midtown Comics Purchasing Manager to working for Jemas at Double Take, and more recently has been running sales for ReedPOP's C2E2.
Yocum will manage sales for both direct and book markets for the launch of AWA's first titles, which are planned for February 2020. In addition to managing AWA's trade sales, Yocum will also handle fan convention appearances.
"We are a well-funded creative studio, an anomaly in comics, and I intend to take full advantage of that in my efforts to treat retailers as true partners," Yocum said in a statement accompanying the announcement. Plainly, I plan on spending money at retail. Our goal is to equip retailers with quality content from incredibly talented, well known creators, the best terms in the industry, bar none, and perhaps most importantly, direct participation in AWA's publishing plans."
AWA has raised $10 million in its first round (see "Artists, Writers, and Artisans Raises Another $5 Million").