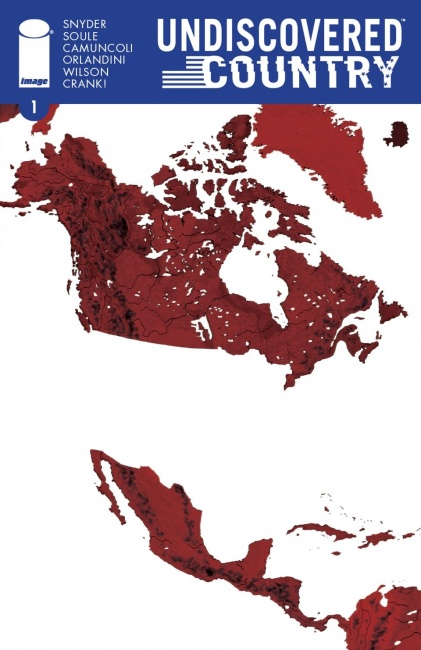 San Diego Comic-Con News:
Image Comics announced the November launch of
Undiscovered Country
, a new ongoing full color comic book series written by Scott Snyder (
Batman, Justice League
) and Charles Soule (
Daredevil, Death of Wolverine
), with art by Giuseppe Comuncoli (
Amazing Spider-Man, Darth Vader
).
Undiscovered Country is a high concept science fiction adventure with definite political overtones that provides a scathing look at the consequences of isolationism as policy in the modern world. It takes place in a world in which the United States has been totally isolated (via a system of "walls") for 30 years, when an urgent call from an American scientist to the outside world results in the "invasion" of America by an international team that is desperate to learn if the American really has a cure for the "sky virus," a deadly pandemic on the verge of wiping out mankind.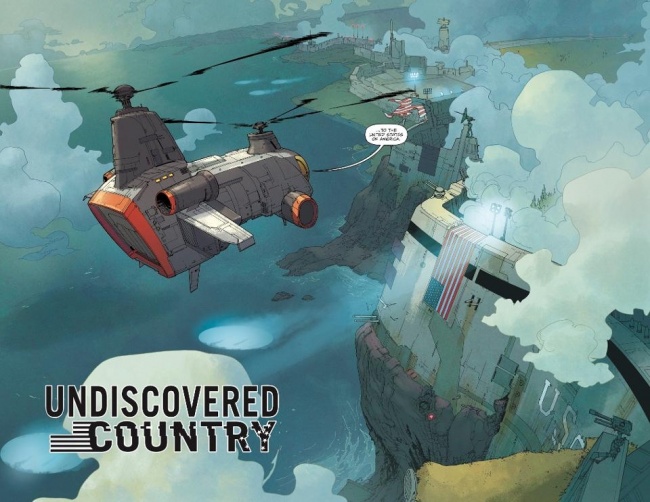 Snyder noted, "As soon as Charles and I came up with this idea I knew it was special—one of those ideas that turns into a big, wild, world-building story. And this series is just that: a twist-filled trek across a landscape that's alien, mysterious, and full of adventure. It's like
Land of the Lost
meets
Lewis and Clark
, with a team of characters we've already come to love as family." Soule added, "We've got ourselves a hell of a high concept here, and fleshing it out together—filling our sealed-off US with beautiful, insane adventures—has been one of the great thrills of my career."
Image distributed an ashcan for Undiscovered Country at the Diamond Retailer Breakfast, which leaves no doubt about dystopian nature of the isolated U.S. with plenty of wildly imaginative Mad Max-type acton and improvised vehicles.